Wine and Spirits Brand Management Companies To Look Out For!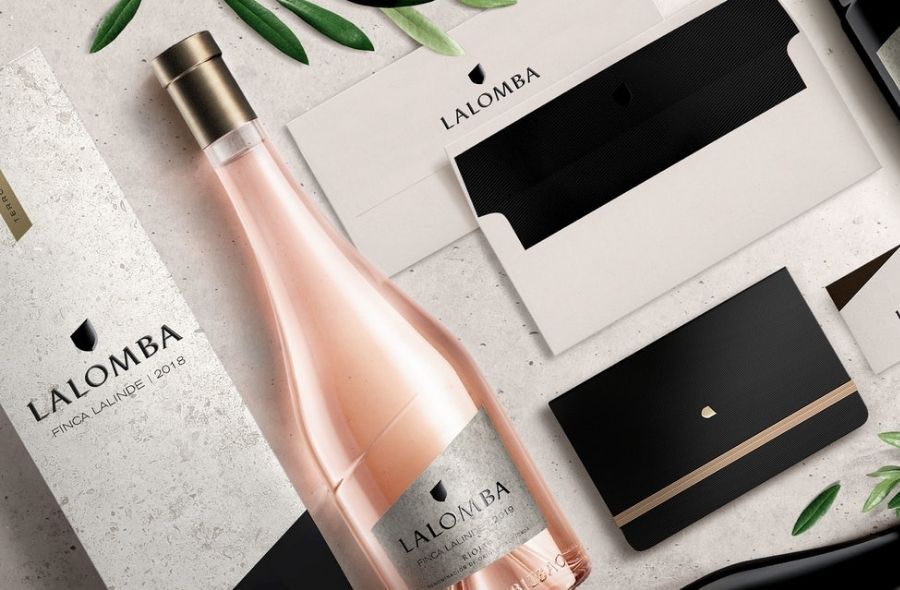 Wine and Spirit brands are focussing on their digital presence to a greater extent now. These companies are vigorously offering brand management solutions to wine and spirits brands.
02/03/2022
As the competition in the drinks market increases day by day, it has become necessary for wine and spirits brands to not only increase their online presence but also build a brand that becomes a consumer's or retailer's first choice. There are so many alcohol brands in the market to choose from that your brand must stand out not just on the shelves but also on digital platforms. Brand management is just an umbrella that includes all the facets that are necessary for developing the personality of your brand. Not just the aesthetic of your brand, it also includes the design, placement, advertising, marketing, and distribution of your brand which is important to portray the right image to your customers.
Social media is one of the important mediums to connect with your consumers while there are tonnes of other ways which can help you to increase your brand presence and eventually increase your revenue. Consumers are constantly turning to social media to look for new brands and flavors which can excite their taste buds. Thus, having a strong brand presence through your website and social media platforms is essential to building an aggressive brand. With alcohol sales skyrocketing during the pandemic, a large number of consumers in the U.S. have started shopping online. The alcohol market has become incredibly competitive and alcohol brands are investing in coming up with great packaging and design to make their brand stand out on the shelves. Thus, brand management has become an essential tool that includes everything from logo designing to social media campaigns and a lot more. There are several companies in the U.S. market now that are exclusively offering brand management solutions to alcohol brands to stay ahead in the league.
[[relatedPurchasesItems-35]]
1. The Brandsmen
A digital marketing agency based out of Denver, The Brandsmen offers experiential marketing services to alcohol beverage brands. Their expertise lies in facilitating the growth of these brands through the Internet. From building a new website to strategizing SEO (Search Engine Optimization) tools, they help you to increase your brand's presence through the right channels. Keeping quality and style in mind, they build brands that are able to sustain and stand out in the market.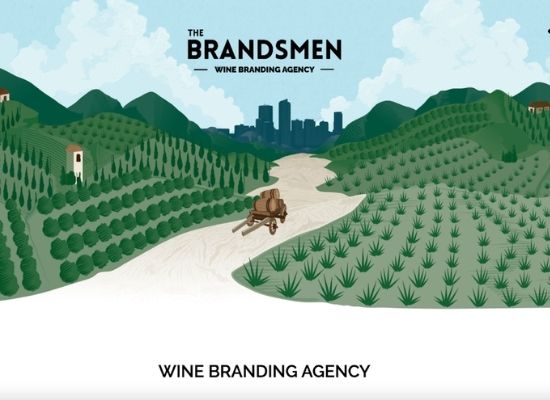 The Brandsmen; Image Source - thebrandsmen.com
Services Offered
- Website designing
- Google Ad campaigns
- SEO Strategy
- Lead generation
- Social media management
- Branding and marketing - Label designing for your brand, Logo creation, Website development, Digital marketing, and eCommerce solutions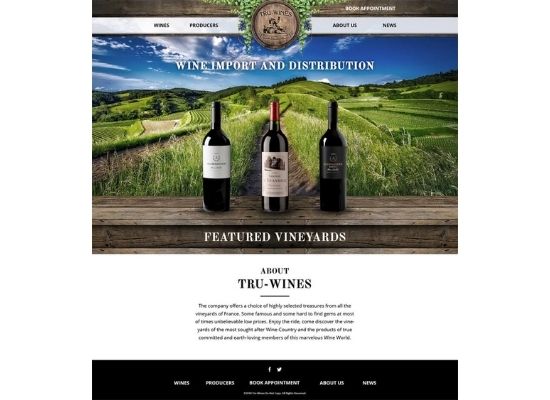 Tru-wine's website developed by The Brandsmen; Image Source - thebrandsmen.com
2. The Brand Guild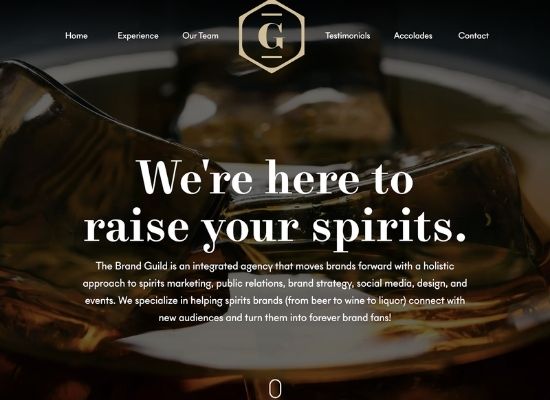 The Brand Guild; Image Source - thebrandguild.com
An integrated agency, The Brand Guild enables brands to grow with a holistic approach with respect to alcohol marketing, public relations, brand strategy, social media, design, and events.
Their expertise is to help brands reach out to bigger audiences and build a loyal customer base. They focus on storytelling and building innovative strategies for the brand. Their clients are like their family, once they associate with the brands, they become an extended part of their marketing team and put in genuine efforts to make the brand big in the market.
Services Offered
- Public Relations - Media training and Crisis communications
- Marketing - Product launches, Partnerships, Digital strategy, and Advertising through paid media
- Event Management - Experiential, Virtual events, Audience development, and Engagement
- Brand Strategy - Research Insights, Brand Positioning, Branding and Brand Identity
- Social media management - Content creation, Influencer relations, Evaluation, and Reporting
- Creative management - Creative strategy, Collateral design and production, Web designing, UX and Development, Logo, and Visual Identity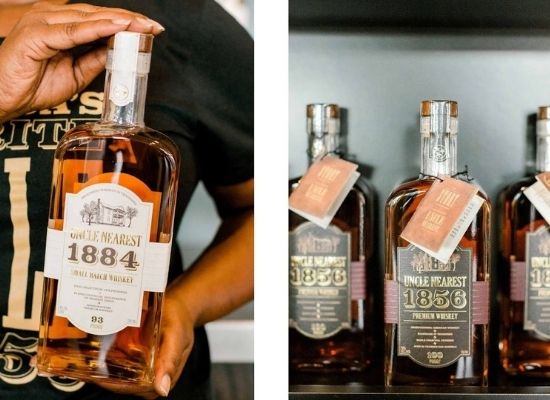 Uncle Nearest Whiskey Branding by The Brand Guild; Image Source - thebrandguild.com
3. Bevology
With years of expertise in the U.S. beverage market, Bevology has helped numerous wine and spirit brands to enter the market. They offer tools that help you understand the American market before even starting your brand. Their extremely informative seminars are beneficial for understanding the alcohol trade and building a practical marketing plan to start with. They also provide services to their clients to find the right solutions for their import and distribution channels which helps brands to grow their reach.
Services Offered
- Preparation and Planning through an in-depth study of the market
- Market Strategization - Consumer and Social media marketing
- Sales management and Distributor activation
- Importing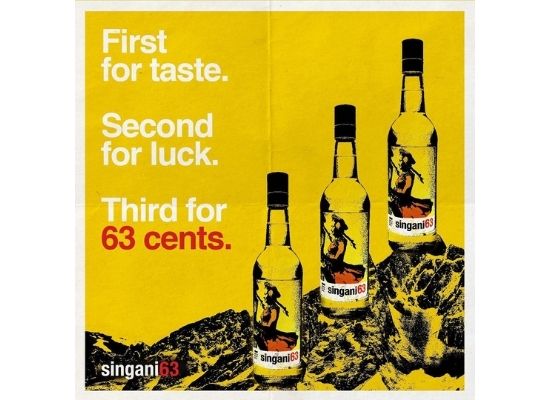 Social media marketing and Website development for Singani 63 done by Bevelogy; Image Source - @singani63 on Instagram.com
4. Calhoun & Company
Calhoun & Company is a dynamic marketing communications and public relations agency that specifically focuses on the brands in the spirits and fine wine industries. They concentrate on offering great expertise in the industry which helps your brand to stand apart from the rest. Focusing on the unique needs of their clients, they offer strategically targeted trade initiatives. They work in close alliance with your brand to communicate your brand story and image with style, sophistication, and substance. Their services are perfectly matched to reach your target audience.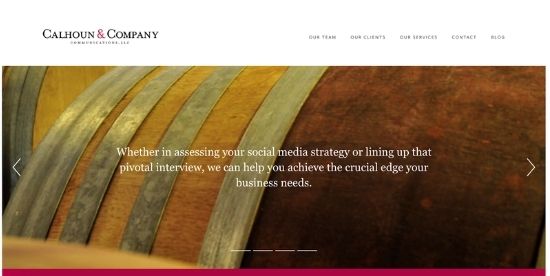 Calhoun & Company; Image Source - calhounwine.com
Services Offered
- Media Relations - Targeted pitches for wine and spirits trade, Tracking editorial calendars and tasting schedules for brand placement, and Strategic collaborations with emerging influencers
- Brand Communications - Communication audits, Identity development and positioning, Media strategy and consulting Custom content creation, and Advertisements
- Brand Visibility - Partnering with trade alliances, and Engagement in industry seminars and events
- Social Media Strategy - Social media audits to access the audience, Establishing online persona and visual communication strategy, Building strong influencer relationships, Increase brand awareness, and Engagement campaigns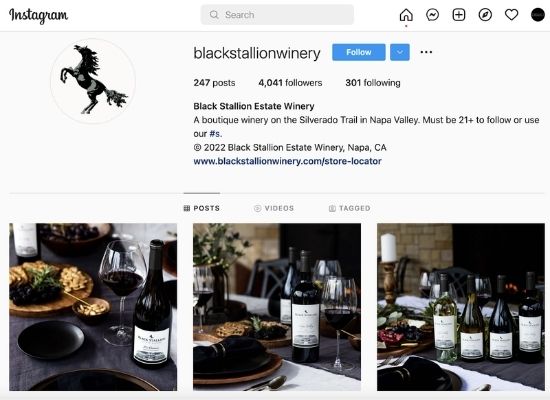 Social Media Marketing for Black Stallion Winery by Calhoun & Company; Image Source - @blackstallionwinery on Instagram.com
5. 270M
A boutique digital marketing agency, 270M focuses on bringing innovative and excellent content solutions for luxury brands, creative services, and consumer product goods. They work with brands that are focusing on creating exceptional experiences for their target customers. Optimized campaigns, research and strategy, and real-time engagement are some of the aspects 270M holds expertise in and uses to connect their clients with the right audience.
Services Offered
- Digital Marketing - Website development, SEO, Email marketing, and Blogging
- Social Media - Posting and Channel management, Reputation management, Data and Analytics, Community management, Social channel audits, and Channel strategy
- Influencer Marketing - Wrangling and Identification, Campaign ideation, Product seeding, Activation management, Consumer identification, Whitelisting, Loyalty programming, and Influencer lists
- Digital Advertising - Google Adwords, Display advertising, Twitter Ads, Pinterest Ads, Facebook Ads, and Instagram Ads
- Brand Identity - Logo design, Brand guides, Video production, Graphic design, Animation, and Photo production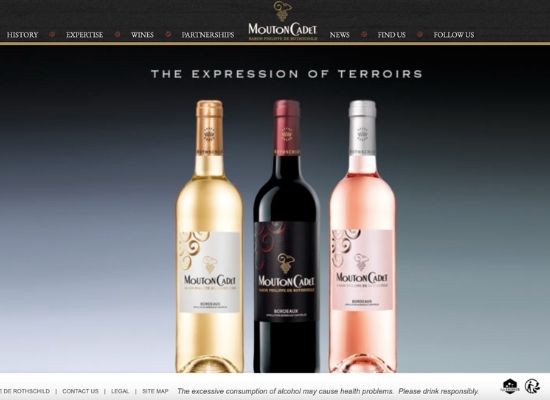 Mouton Cadent's website designed by 270M; Image Source - moutoncadet.com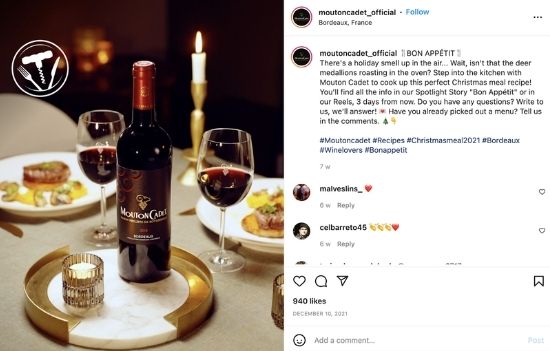 Social media handling for Mouton Cadet; Image Source - @moutoncadet_official
6. 5forests
Running on the values of communication, value, and trust, 5forests is an award-winning and globally-recognized digital marketing agency for not just the wine industry but food and travel industries even. Running on the principles of developing profitable strategies and digital solutions for the wine industry, 5forests works with USRA6 to build a fabulous website for your brand, Emetry to aggregate consumer data and analytics, Commerce7 to provide DTC commerce solutions to your brand's customers, and ARENI which helps in gaining expertise in fine wine by critical thinkers in the industry from across the world.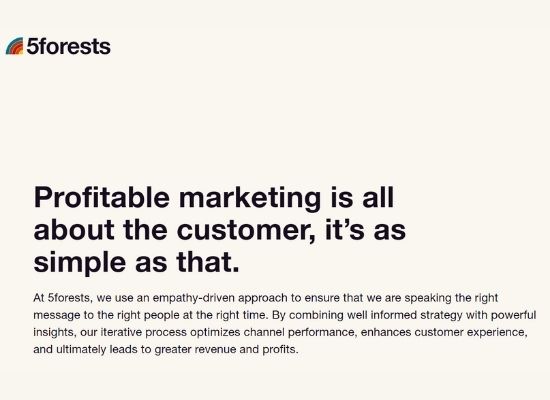 5forests; Image Source - 5forests Website
Services Offered
- Strategy - Brand Strategy, Competitor & Market analysis, Identity & Messaging, Customer personas & Journeys, Analytics & Business insights, Trends & Forecasting, and SEO audits & strategy
- Technology - Ecommerce, Commerce7 websites, Enhanced Commerce7 websites, Website design & development, Technical & accessibility audits, Youtube & podcast production, Enterprise-level website hosting, and Apps, Themes & Plugins
- Content - Content strategy, Copywriting, Photography, Video, Animated content, Publishing management, and Google business
- Digital Marketing - Multichannel communications, Paid Social, Paid search, Campaign concept & Creative, and Email marketing & Automations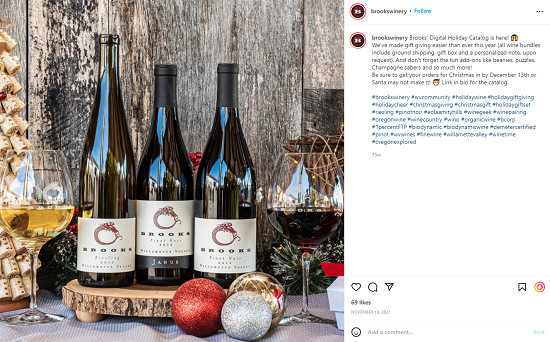 Social Media handled by 5forests for Brooks Winery; Image Source - @brookswinery on Instagram.com
7. GTMA Agency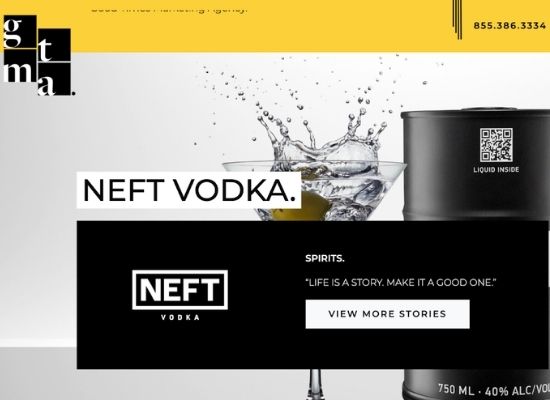 GMTA; Image Source - gtma.agency
GTMA is a well-established marketing agency headquartered in Washington that produces custom visual content and marketing for restaurants, bars, and alcohol brands. They concentrate on telling unique stories of their brands, sharing experiences, and engaging audiences. They hold great expertise in building specialized alcohol marketing strategies and understanding the synergy to create story-driven content. Their knowledge of the dynamic digital landscape allows them to develop efficient websites for your alcohol brand which is integrated with the online store, age verification, and a lot more. GTMA helps brands attract more consumers, build a successful brand, and gain valuable consumers.
Services Offered
Analytics and Analysis, Animation and Motion Graphics, Brand Development, Collaterals and Printing, Email Marketing, Filmmaking and Video Production, Graphic Design, Lead generation, Media Strategy, Organic Social Media, Public Relations, SEO Marketing, Social Media Advertising, and Web Design and Development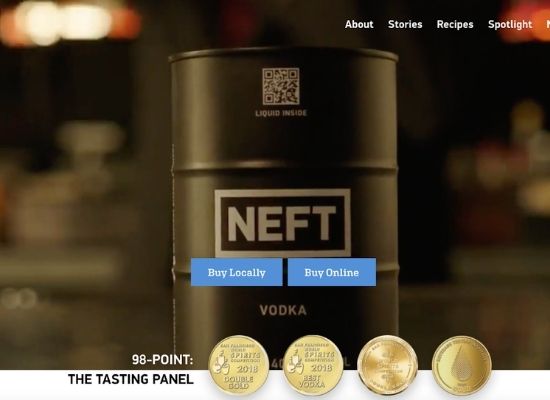 NEFT Vodka website designed by GMTA; Image Source - neftvodkaaus.com
NEFT is a Russian heritage and Austrian craft vodka. The launch of the national campaign for NEFT was done by GTMA where the vodka was encased in an unbreakable oil barrel. GTMA handled their Creative Ad design, Creative Filmmaking, Video Content, Lead Generation, Radio Ad Production, Social Advertising, and Website Design and Development. The brand was successfully launched in the U.S.
8. The Social Element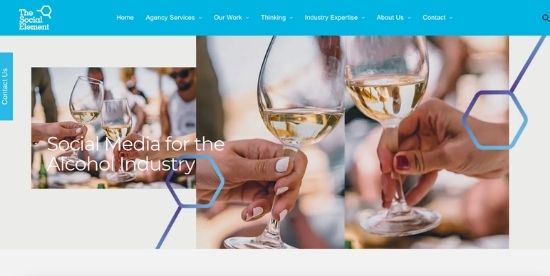 The Social Element; Image Source - thesocialelement.agency
The Social Element is a marketing agency that helps alcohol brands establish meaningful connections with their audience. They focus on increasing real-time interactions while aligning them with the brand's mission and values. They fully immerse themselves with the brand and work very closely with the internal team to offer a persistent and authentic presence of the brand across all the platforms. They simplify social media marketing for alcohol brands by offering expertise by their social media specialists and their insightful data.
Services Offered
Insights and Research, Social Media Strategy, and Community Management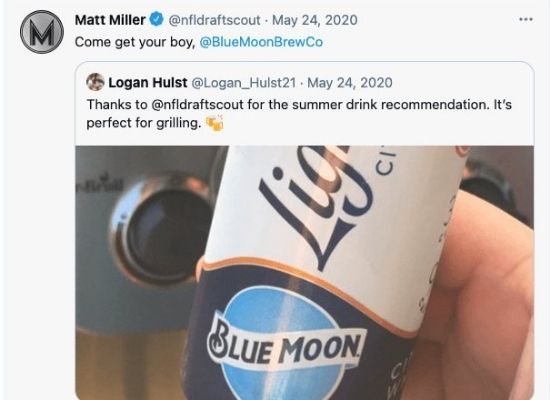 Blue Moon's social media engagement by The Social Element; Image Source - thesocialelement.agency
The Social Element closely works with the Blue Moon Brewing Company to increase its social media brand presence. With their round-the-clock moderation and engagement services, in 1 year they were able to reduce the average response time by 48% and increase engagement across various platforms by moderating 32,000 items and engaging in 3000 conversations.
9. Offset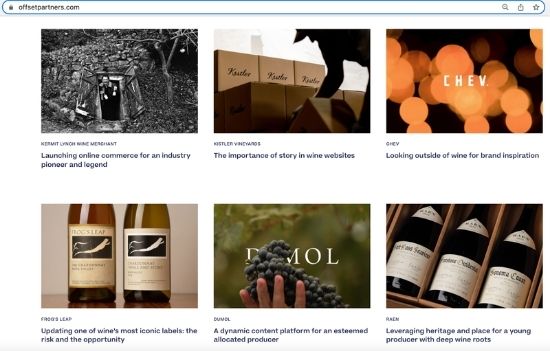 Brand management of wine brands by Offset; Image Source - offsetpartners.com
A wine commerce technology and brand design company, Offset works in Napa Valley and San Francisco exclusively with wineries. Their expertise in building technology, designing brands, and creating customer journeys helps them to create valuable relations, deepen engagement, and drive retention. They focus on weaving technology and design in all their services and products to create a memorable experience for the customers of the brand before even purchasing the wine. Offset has worked with numerous wineries across the U.S. and has been able to deliver fabulous results through their team that has great wine knowledge and is scattered across the country.
Services Offered
- Integrated Brand and Commerce - Custom and modular e-commerce website and Commerce strategy
- Brand Strategy - Brand health audit, Market research and differentiation analysis, Brand architecture, Portfolio tiering strategy, Customer journey development, and Touchpoints mapping
- Visual Identity and Packaging - Evolving an existing brand, Ideation and execution of a new brand
- Storytelling and Content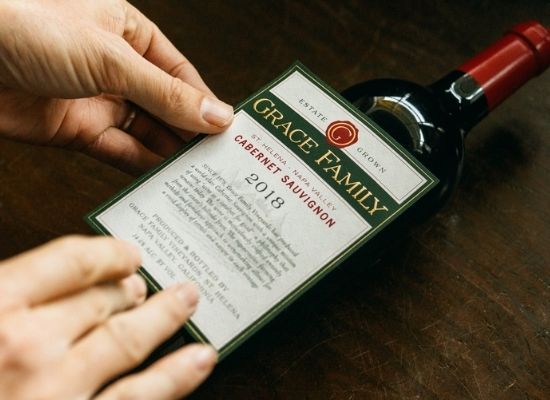 Grace Family Vineyards wine label by Offset; Image Source - offsetpartners.com
After the transfer of ownership of Grace Family Vineyards, Offset closely worked with the winery to evolve their original packaging, refine their storytelling, and extend their story to a new website which was powered by Offset's commerce platform.
10. Colangelo & Partners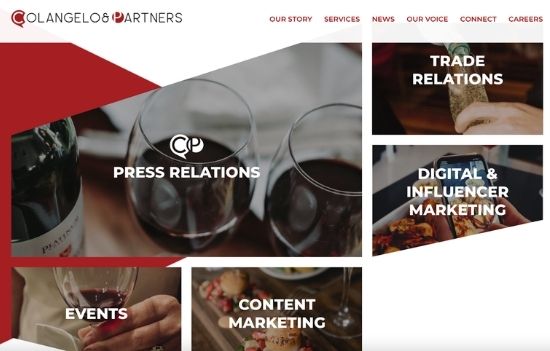 Colangelo & Partners; Image Source - colangelopr.com
With over 14 years of experience, Colangelo & Partners is an important part of the wine and spirits industry with a strong clientele. They focus on sharing integrated conversion about your brand to build awareness and powerful relationships that can elevate your brand message. Their team of media-savvy wine and spirits professionals enables them to cultivate your brand message and deliver it to the right audience. Their expertise provides market-moving advocacy to premium brands that are seeking to build their business in the U.S. alcohol market.
Services Offered
- Press Relations - National and regional press contacts, Wine and spirits media specialist on staff, Print and online feature placement, Broadcast contacts, and Organic influencer relationships
- Trade Relations - In-person and virtual tasting seminars, Trade shows and educational initiatives, Sommelier and mixologist influencer events, Retail and restaurant promotions, Importer and distributor connections, and E-commerce strategy and promotion
- Digital and Influencer Marketing - Social media management, Distinct digital branding, Social media growth strategy, Community engagement and management, Content creation, and Influencer marketing and partnerships
- Event Management
- Content Marketing - Photoshoots, Video production and series creation, Graphic design, Website design, Copywriting, and Article creation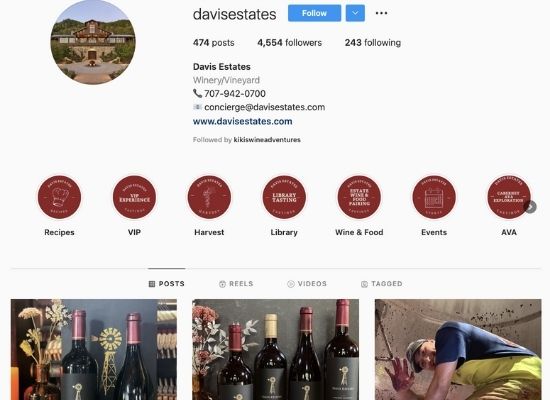 Social media management for Davis Estates by Colangelo & Partners; Image Source - @davisestates on Instagram.com
11. Watson Creative
A compelling creative agency in Portland, Watson Creative has worked with numerous renowned brands across several industries. Their team of strategists, creatives, marketers helps your alcohol brand to tell its story and set it apart from the rest in the competition. Their expertise helps your brand to evolve across the consumer landscape through interconnected experiences that enable brands to sustain traction in a crowded market. Watson Creative has worked with eminent alcohol brands like Budweiser, Domaine Serene, Cascade Distillery, etc., and delivered niche and diverse experiences to each of them.
Services Offered
- Strategy - Brand strategy, Brand DNA, and Activation mapping
- Creative - Branding, Design, Content, and Digital
- Activation - Campaigns, Gamification, Digital marketing, and Optimization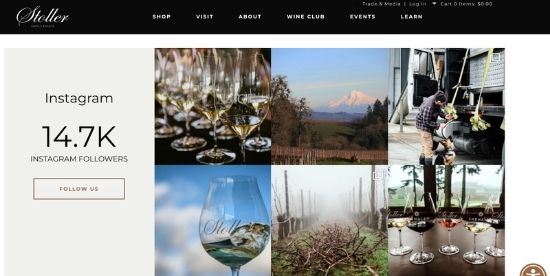 Stroller Family Estates's website development and social media handling by Watson Creative; Image Source - strollerfamilyestate.com
Watson Creative has worked closely with Stoller Family Estate on building their research, strategy, photos, video, animation, design (UI/UX), print, packaging, web, membership, and digital marketing.
---
Article by Shreya Kohli, Beverage Trade Network
Header Image Source - packaginworld.com