A Conversation With The Marketing Director Of Treasury Wine Estates: Justin Noland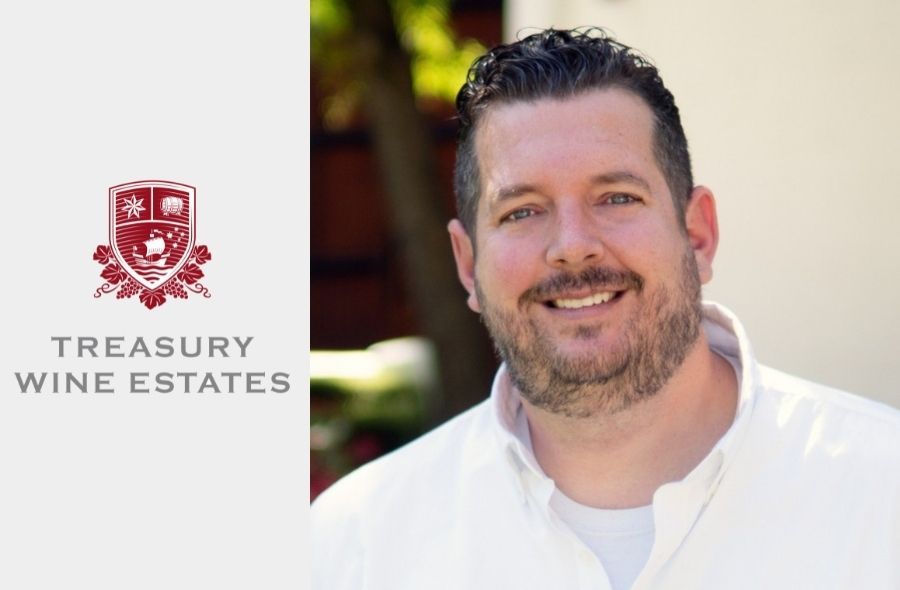 The Marketing Maven, Justin Noland shares his vast experience in wine marketing and discusses some of the wine trends in E-Commerce, technologies in wine marketing, growth of wine E-Commerce, and much more.
08/03/2022
Justin Noland is the Senior Director of DTC Marketing and E-Commerce at Treasury Wine Estates, one of the global leaders in wine. Justin's career in wine started at Wente Family Estates when he was given an opportunity to digitalize the organization. Since then he has been helping brands transform digitally and currently works to enhance Treasury's DTC Marketing and E-Commerce channel. With vast experience in marketing, Justin specializes in omnichannel marketing, retail channel, shopper, and digital marketing. One of the marketing leaders who have the vision to drive positive changes in the wine industry, Justin is the marketing expert in this digital era who is helping wines to digitalize.
[[relatedPurchasesItems-35]]
As a marketing person, how did you enter the world of wine?
I spent the early part of my career working on the agency side of the CPG marketing world and then transitioned into health and ultimately health-focused non-profit work. While it was very fulfilling, working at a health-focused non-profit can also be very draining work. When I decided to make a change, I knew I wanted to work with wine. Wine is a part of so many amazing experiences. Consumers have such a positive connection with wine and the pieces of life wine is a part of. I knew my next stage was to connect with that and help bring wine to the digital space.
What are your key responsibilities as the Senior Director of DTC and E-commerce at Treasury Estates?
My role at Treasury supports the incredible teams that interact with consumers every day. From our fantastic wine clubs to our branded websites, and the marketing that draws in new customers, I'm privileged to work with an amazing team of people doing great work.
Who is your target clientele? When it comes to DTC and E-commerce, how do you work with your clientele?
Treasury Wine Estates has a wonderful portfolio of wine brands that allows us to target a range of wine consumers. Whether you are new to wine and are coming to the category by tasting Cali red or Cali Rose from 19 Crimes or celebrating a special occasion with an iconic bottle of Beringer Private Reserve Cabernet Sauvignon, our brands are there for you. Our goal is to engage with wine consumers where they are and in the way, they want to have a relationship with us. For some, that's getting an email from their favorite brand every few days with great content that supports their wine experience. However, for others, that may be following us on social and dropping a DM with questions for our care team. Either way, our goal is to make wine buying and enjoyment easy.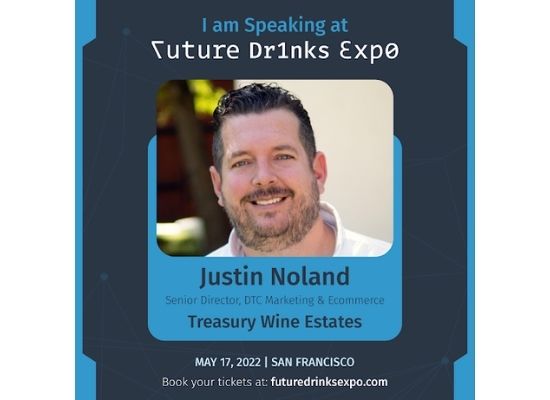 Justin Noland will be speaking at Future Drinks Expo 2022
Source: Future Drinks Expo
Why do you think it is important for wineries to leverage their digital avenues and e-commerce?
It's about meeting customers where they are at. Digital and traditional channels have been on a path of convergence for years and that has accelerated during the pandemic. It's not just about having a website available for people to buy your wine. It's about learning to communicate and deliver content and experiences in a way that can connect with people who visit the winery often and those who may never walk through your cellar door. Digital is where potential customers are first learning about you and your brand, it's important to have a voice, tell your story, and contribute to the broad experience of wine.
How do you think Wine e-commerce has grown over the years? What technologies are you excited about in the future?
Wine eCommerce is booming. We were already seeing growth before the pandemic but as lockdowns went into place, the consumer adoption of eCommerce for wine jumped forward a decade or so in time. We continue to see growth and expect to see more in the years to come. I'm excited about the move to Web AR and its impact in allowing wineries to tell immersive stories and create fun experiences without the need for an app download. I love what Pix is doing in creating a smarter way for consumers to discover new wines and find the ones they love in a sales channel-agnostic way.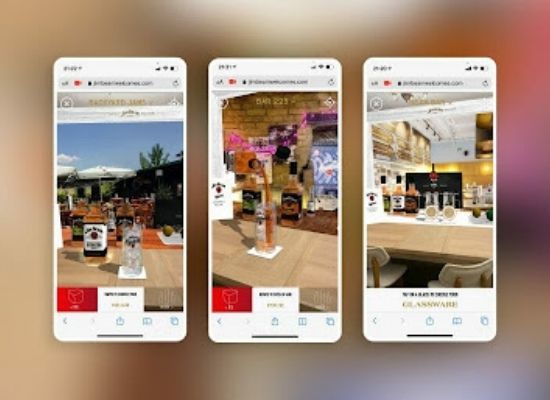 Web AR in the Beverage Industry
Source: Rock Paper Reality
What do you think are some of the trends in wine e-commerce?
Some of the trends we're looking at in wine eCommerce include the launch of digitally native brands, strengthening of content creation and distribution across digital channels including retail syndication, and opportunities to create value through digital to grow recurring revenue programs like subscriptions and exploration clubs.
How do you think wineries can increase their DTC sales? What tools can they use to connect with the consumers?
Invest in digital. Invest in content. Invest in making your website an interesting place to go. Your website, communications, social posts should all add value for the consumer whether they are direct calls to action or not. Growth in DTC is about consumer mindshare when a wine buying occasion arises. If you are always giving them something of value, they will buy from you when their occasion comes up. Connecting with consumers doesn't need to be complicated. Email is a huge piece of the puzzle, but also something wineries often get wrong. Be interesting on social and be available to interact and answer questions. There are great automation tools, content development and planning tools, and even some bot programming worth considering, but it still comes down to being interesting and providing value.
How do you think Millenials and Gen Z can help in the growth of wine e-commerce?
Younger generations are native eCommerce shoppers, and even more specifically, native mobile eCommerce shoppers. They will push the industry to continue to optimize the online experience to make it easy to find what they want, learn more, make a purchase, customize delivery, and engage post-purchase. They are less likely to tolerate a bad online experience. They have grown up with a world of choice, believe brand loyalty is a two-way street, and want to know more about what they buy than the generations that came before them. I don't know if anyone thing is the key to attracting younger millennials or Gen Z, but we're all going to need to be better at digital.
When it comes to sustainability, how do you think wineries are indulging in e-commerce activities sustainably?
I definitely think we'll see a rise in more sustainable packaging for the eCommerce channel. Reduced weight bottles and alternative materials will be both better for the environment and more financially sustainable as they ease shipping costs. We'll also see our logistics partners working to optimize multi-city shipping hubs to reduce time on trucks and increase speed to customers.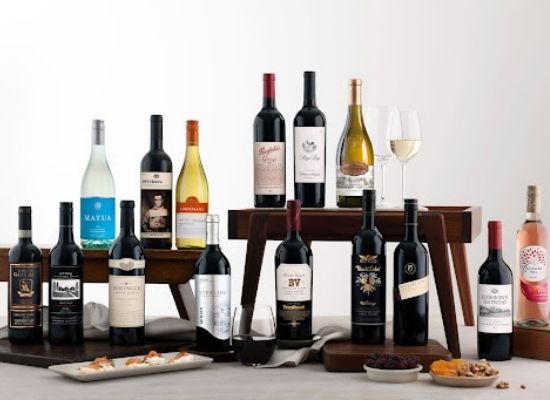 Some of TWE's global wine collection
Source: TWE Global
What are some of the biggest challenges in wine e-commerce?
Wine, especially luxury wine, has a lot of meaningful stories to tell. From the land where the grapes are grown to the people with the passion to produce an exceptional product to the people creating a magical environment in a Napa Valley tasting experience, there is so much more than fermented grape juice that goes into the bottle. It's lifetimes of experience, hopes, dreams, and love that ends up in the bottle. The challenge is how to tell these stories in ways that engage an online audience. We want to provide our consumers with the details they want to know, but we're also cognizant that we're telling our story on a screen while they are living their lives. We'll never have 100% of the consumer's attention in eCommerce and that's ok, but it does create a challenge for traditional wine story-telling.
What are some of the DTC and E-commerce tips you would like to give the wine producers?
Connect with consumers and add value through great content without the expectation of purchase. That's the crux of consumer-centric marketing and it's vital to digital efforts. Digital content is difficult and it's a long game sort of strategy, but it's the right path.
Header image source: LinkedIn and Treasury Wine Estates
Interviewed By Prithvi Nagpal, Editor & Sommelier, Beverage Trade Network