Grain De Sail: Leading Low-Carbon Wine Shipping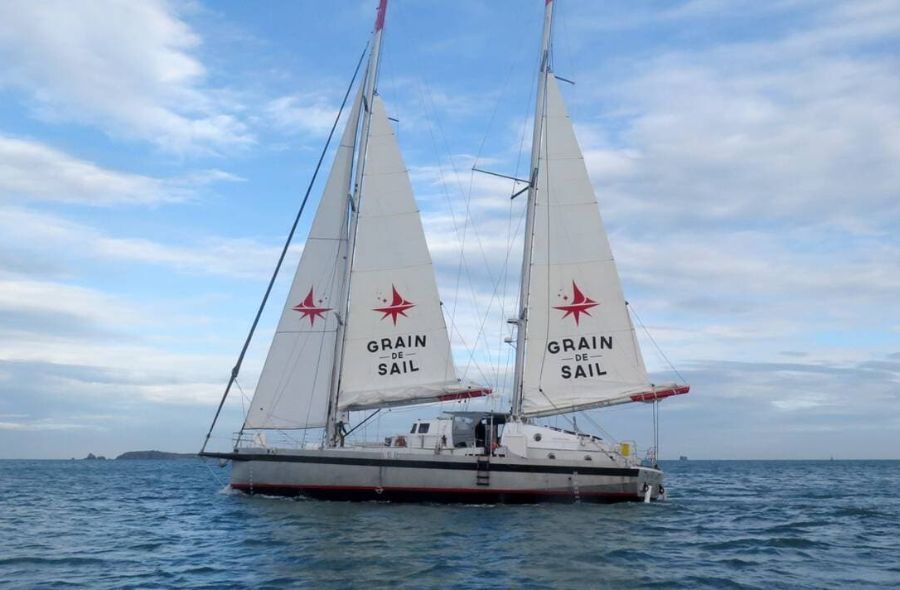 Get aboard Grain de Sail, a wind-powered schooner sailing from Brittany to Brooklyn, paving the way for sustainable shipping and the future of wine transport.
04/08/2022
Winegrowers have been exporting their wine across oceans since the advent of refrigerated shipping containers called "reefers". Reefers paved the way for easy, damage-free shipments of wine bottles at desired temperatures. However, it came at a big cost to the environment as ocean shipping became a major contributor to air pollution and global warming. It accounts for about 2.5% of global CO2 emissions, thus causing a huge impact on the environment. This surge of atmospheric carbon emitted by ships not only exacerbates climate change but also contributes to ocean acidification, which has an impact on biodiversity.
To address these environmental concerns, two brothers from Brittany, France—Jacques and Olivier Barreau—built a modern cargo sailboat, the Grain de Sail, that leaves virtually no carbon footprint crossing the Atlantic Ocean. In May, they strongly sailed their bold vision of creating a renewable energy alternative for wine shipments by transporting 18,000 bottles of organic and biodynamic French wine to New York City. Their specially built 80-foot steel-hulled schooner with a 50-tonne capacity ferries products across the Atlantic Ocean using wind power.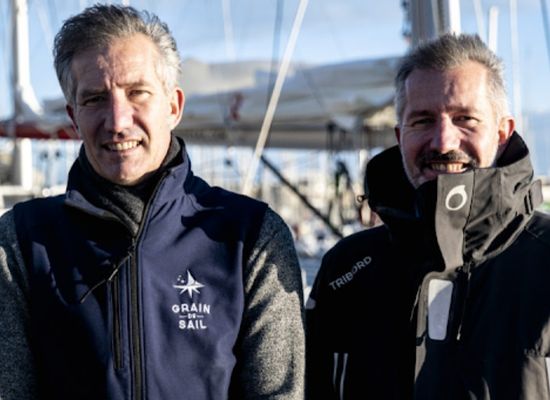 Image: Olivier Barreau and Jacques Barreau; Image Source: Ynsect, Olivier Barreau and Jacques Barreau
The French wine bottles aboard Grain de Sail had traveled for 25 days in a temperature-controlled cellar and proudly displayed the sticker "Shipped by cargo sailboat." The sailboat's construction cost was only about €2 million, and its only motor is a 6-horsepower engine that is needed by law for docking at US ports. It includes cutting-edge navigational technology and is aluminum built for enhanced durability and speed. Additionally, it has solar panels, hydro generators, and miniature wind turbines. Compared to conventional cargo ships that consume up to 200 tonnes of fuel daily, a three-month Grain de Sail voyage utilizes just 150 liters of diesel fuel.
Grain de Sail is the first commercial exporter of wine by sail freight and is leading the way in green maritime shipping. It is a viable, scalable, and profitable alternative to conventional cargo shipping. Grain de Sail generated €10 million in revenue in 2022 and intends to grow its fleet to three cargo sailboats that can each carry 350 tonnes of cargo and do three transatlantic loops annually in order to scale the business. CEO Jacques Barreau stated in his interview with SevenFifty Daily, "The cost per day of transportation is cheaper and the boat will go faster, due to the shape of the hull, so we'll generate more efficient cruising speed. These two factors will reduce the final cost for shipping, and that's why it's possible to use it as a classical transportation system."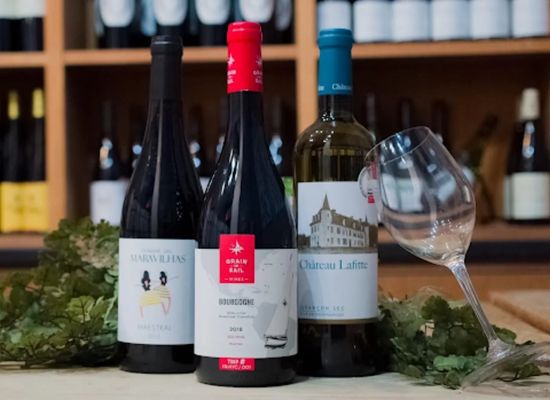 Image: Domaine des Maravilhas, Grain De Sail, Château Lafitte
Grain de Sail has made four voyages to date, transporting organically grown wines from small Loire Valley producers and selections from Château Maris, its largest customer in the south of France. On its most recent 24-day voyage, the ship carried 1,440 bottles of Charles Heidsieck's relaunch of the tête de cuvée, "Champagne Charlie," which was made to commemorate the 200th birthday of the company's founder, who traveled the Atlantic Ocean by sail before the Civil War to introduce champagne to Americans. Additionally, Grain de Sail also plans to deliver wine to local restaurants and has teamed up with the marina's restaurant Estuary to host wine tasting events.
Grain de Sail works primarily with producers by purchasing their wines directly and managing all facets of importation, distribution, and sales in the United States. After the construction of the second sailboat, they plan to operate more like a conventional freight firm, carrying 180,000 bottles across two hulls, four times a year. They select artisanal, biodynamic, and organic wines from winemakers who align with their values and are willing to radically reimagine their transportation.
Their list of winemakers includes — Robert Eden of Château Maris in Languedoc, the first B Corp-certified winery in Europe, Mark and Martial Angeli of La Ferme de la Sansonnière in the Anjou region of the Loire Valley, which has been biodynamic since its founding in 1990, Jean-Frédéric and Morgane Bistagne of Domaine des Maravilhas in the Rhône Valley, which has been organic since 1992 and biodynamic since 2004, and others.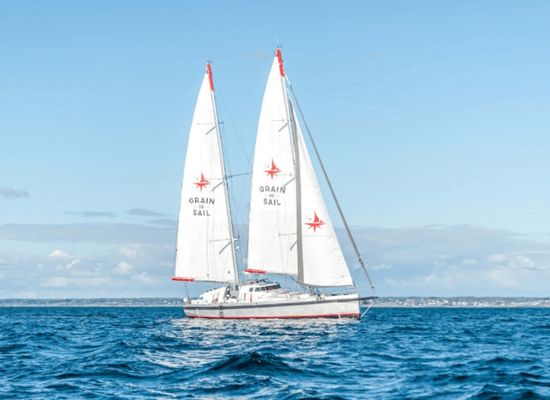 Image: Grain De Sail; Image Source: Grain De Sail
"We have three pillars of our business—preserving the environment, doing social good, and making a profit," adding, "if we aren't profitable, then the business isn't sustainable," stated Barreau. Grain de Sail wants to show that it is possible to ship high volumes in a sustainable way. "It's not easy, but there's an emergency today with the planet," says Barreau. "We have to do something now. And if we show the right example, I hope some other company will do the same."
Article by Aanchal Sharma, Beverage Trade Network
Header Image Source: World Today News