How IoT is revolutionizing the Wine and Spirits Industry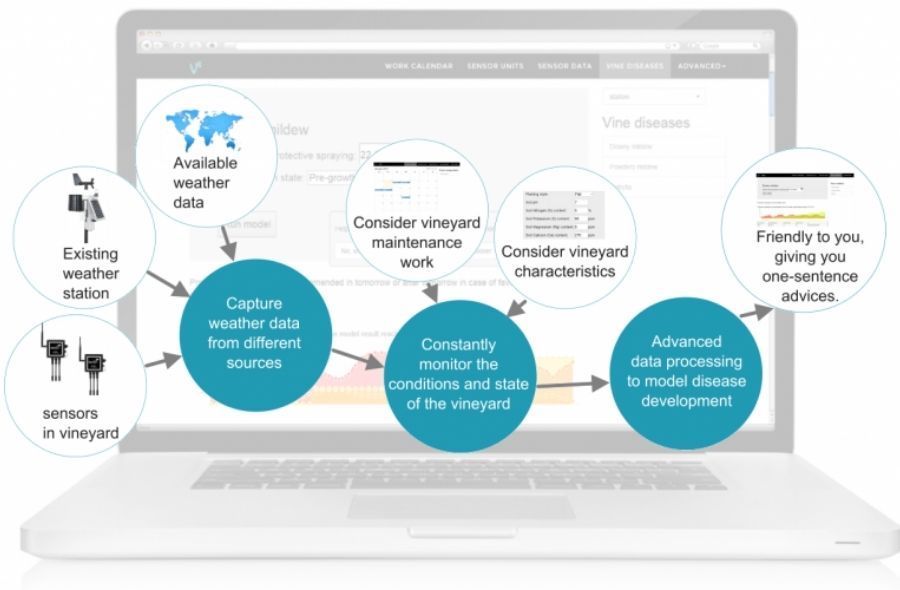 What is this Internet of Things and how can wineries and distilleries benefit from it? Read on to know more!
31/01/2022
Internet of things is revolutionizing every industry in the world today. This digital revolution is busy changing everything from day-to-day tasks to organizational structures. The Wine and Spirits industry is also one of the many such industries, finding ways to keep up. What is this Internet of Things and how will it impact the Wine and Spirits Industry? Read on to find out.

For the uninitiated, the internet of things, or IoT, is a system of interrelated computing devices, mechanical and digital machines, objects, animals, or people that are provided with unique identifiers (UIDs) and the ability to transfer data over a network without requiring human-to-human or human-to-computer interaction. According to Gartner, there will be more than 21 billion devices hooked up to the Internet of Things by 2020. According to the McKinsey Global Institute, IoT will have a total potential impact of up to $11.1 trillion a year by 2025. IoT opens up a whole lot of possibilities for Wine and Spirit Businesses.
IoT for Condition Monitoring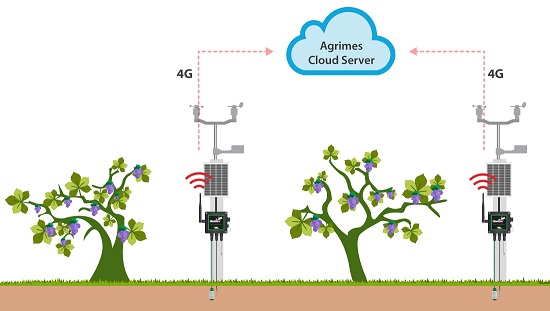 How Libelium's IoT sensors help monitor conditions and ensure quality. Source: Libelium
Wines and Spirits are made from an alchemy of ingredients, weather, and processes, with the most important ingredient being time. Condition Monitoring becomes an important aspect of this process. All ingredients have to be grown and cultivated at the right temperature and humidity to extract the rich flavor. Agriculture IoT has a current market opportunity of $4B USD. IoT, through sensors, can help viticulturists to predict the farming conditions by providing them a live-time update on the soil condition, warmth, rainfall, and oncoming climate differences. This can help wineries and distilleries strategize and be ready for any new condition and keep producing top-notch wines mindfully. Pago Aylés, a winery in Spain, is known to be one of the first wineries to use Libelium's IoT sensors. They used 100 checkpoints to measure 25 variables like grape quality, biological cycles, and overall production capacity to produce some high-quality wine consistently.
[[relatedPurchasesItems-35]]
IoT for credibility
As the industry continues to flourish, duplicity and adulteration is also becoming rampant. Wineries, distilleries, and distributors struggle with verifying the authenticity of their wines once they enter the markets. Using Radio Frequency Identification (RFIDs) and Wireless Sensors Network, it builds a universal ledger of Data that cannot be tampered with and would send a chain of alerts to all stakeholders in case of an attempt of tampering. When new data enters the system, it has to be validated by maximum stakeholders to be verified and approved. This ensures end-to-end traceability and credibility and could benefit and assure retailers and consumers alike.
IoT for development monitoring
Wineries and Distilleries often find it difficult to keep up with processes once the manual monitoring pauses at night or over the weekends. It is difficult to maintain all the data collected physically, especially when the wine or spirit is at a critical stage and needs a timely check-in. Many establishments also struggle with discrepancies that come with manual monitoring, data recollection, or even shift changes amongst employees. It is, therefore, best to opt for IoT-powered monitoring tools. IoT sensors can collect data like flow rate, temperature, uptime/downtime – or the tracking of volumes like water, wine, and chemicals. This can help look closely at various processes and take action to make them more efficient.
IoT for automating processes
While condition and development monitoring are revolutionary use cases of IoT, the process of great wine or spirit continues beyond the bottle. IoT solutions can be used to automate production and distribution processes as well. Big Data analytics help manufacture better at reduced costs and downtime. They also help predict maintenance and upkeep. Automating workflows from packaging to sales front helps sync all the organizations and their process to form a unified cohesive structure that can be easily monitored and improved. Simple solutions like incorporating GPS technology to track shipments end-to-end help reduce losses on a great scale. Asset tracking via IoT sensors enables one to see where the problem occurs, whether at the filling, distribution, delivery, collection, or return stage and immediately respond to it, making the necessary corrections and saving costs.
IoT for on-premise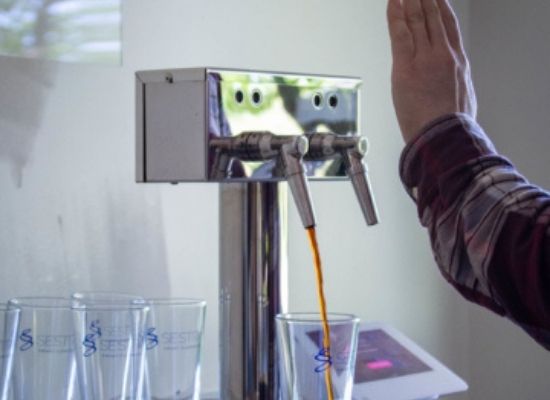 Sestra uses IoT to create touchless dispensing systems. Source: Sestra
The use of technology for POS devices and services is quite popular around the world. Many SaaS products enable distilleries and wineries to serve clients better thanks to the IoT-linked devices and services. However, can IoT address the on-premise problems? Over Pouring costs almost 20% of revenue, theft leads to a loss of up to 50% for clients, opened wine bottles go waste waiting on the shelves; glass, cork, and foils all end up in the trash, and all the maintenance is difficult to track. IoT solutions can help limit most of these losses. Sestra, for instance, has developed a beverage dispensing device that integrates with any ordinary keg systems to equip it with programmed portion control, in-line chilling, sophisticated analytics, remote management, and more. Loss is prevented before it happens, operations are eased, service is elevated with near hands-free pouring, and carbon footprint is sliced as well.
IoT for Storytelling
The beverage industry is always on the lookout for newer real-estate to tell their story better. That has resulted in the rise of AR labels and QR codes on beverage bottles. AR Labels today are being used on packaging from wineries like Treasury Wine Estate's 19 Crimes in Australia to tell stories of criminals and colonizers using mugshots to global beverage giants like Coca Cola to spread the festive cheer. These AR labels can then be experienced via apps that allow users to scan the labels on spirits and wines and watch them play out on their smartphones.
IoT for an extended experience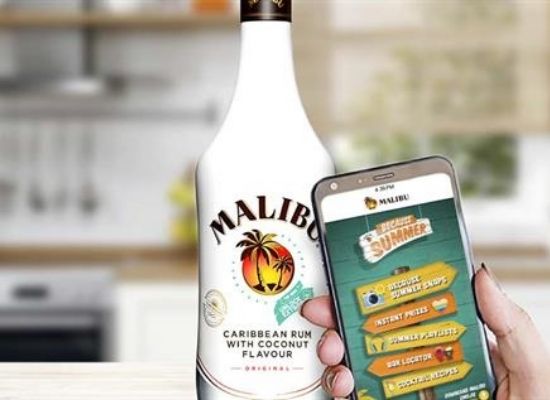 Spotify Playlist, online drinks recipe, and contests served alongside Malibu Rum. Source: Campaign US
While storytelling helps introduce a brand in experimental ways, the wine and spirit experience today extends beyond the glass. Brands have been leveraging the possibilities that IoT offers to set the scene for their beverage nestle in perfectly. Pernod Ricard launched a "connected bottles" promotion for their Malibu rum brand that connected users with a Spotify music playlist, plenty of online drinks recipes, and a special entry form for a prize competition. Absolut, another Pernod Ricard brand, has established an Internet of Things lab in Sweden to create connected products. These connected spirits can link with other internet-powered devices to set the mood. You can get a bottle of vodka, fire up party music playlists, brighten the lights up, all with a few clicks to match the beverage and the vibe.
Many aggregators in the industry have stepped in the direction of experimenting and incorporating IoT across the board. In a conversation with Libelium, Julio Prieto, winery agronomist of Pago Aylés states "We have an urgent need to obtain information that allows us to make early decisions on production strategy. Allowing us to standardize production in terms of quality and quantity. In qualitative terms, the better knowledge we have of our production, the greater our ability to maintain the final quality of the product. This is essential to be able to maintain our market position at high quality-price levels. What's more, quantitatively, the improvement of knowledge-based management gives greater room for maneuver in making decisions that minimize risk and reduce maintenance costs. Which provides greater efficiency and lower production costs than our competitors."
All the possibilities of the precise use of the Internet of Things, Blockchain, or Big Data are not a prediction for a distant future but a reflection of the thriving digital present in the Wine and Spirits Industry. It is time more wineries, distilleries, establishments, and enthusiasts embrace it.
Article written by Prithvi Nagpal, Editor & Sommelier, Beverage Trade Network
Header Image Source: eVineyard