Online Alcohol Sales Booming In The U.S. Through These Marketplaces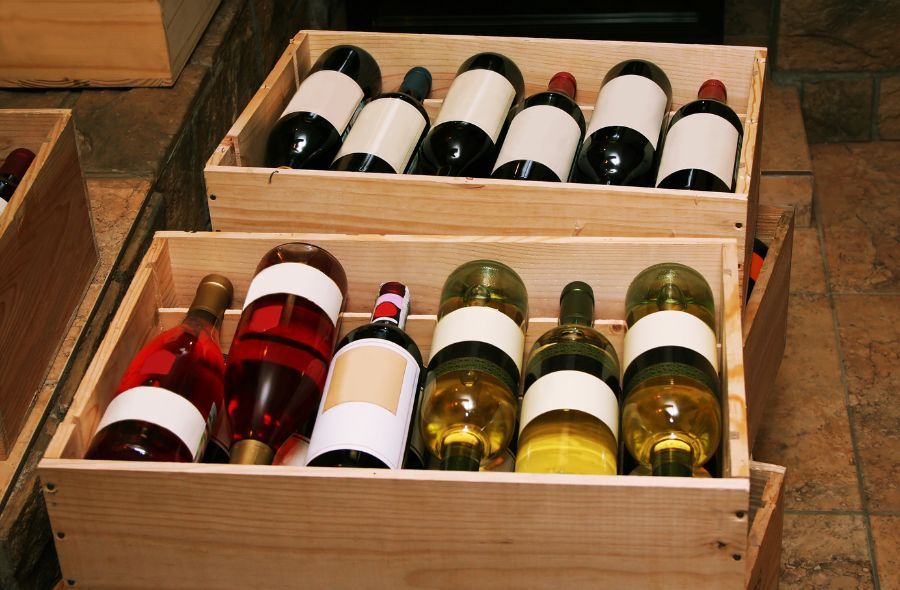 Check out these online marketplaces are playing a huge role in the online sales of alcohol.
20/07/2022
Online alcohol sales have seen a huge growth in the U.S., especially during the pandemic with sales going up to US$4.2 million in 2020 according to Statista. The e-commerce penetration witnessed a boost by 10 times in just three months in the U.S. Being a heavily regulated market, startups and companies across the U.S. have been able to tap into it and create a better digital experience along with better logistics which has transformed the industry. Development in technology using big data to target consumers has also brought innumerable improvements in the logistics of alcohol. This has helped to increase the geographical reach, which would further push online alcohol sales to new heights. The acquisition of Drizly by Uber has also forced many retailers to advance their online alcohol offerings to expand their market opportunities.
According to IWSR, the beverage alcohol e-commerce sales are expected to reach a whopping US$42 billion across the key markets of the world by 2025 which accounts for an increase of 66%. The online sales of alcohol in the US are now worth US$6.1 billion which has seen a rise of 131% since 2019 (2022 Alcohol E-commerce Playbook - Rabobank).
Big retail chains like Walmart, have increased the number of locations they delivered alcohol to in the US from 200 in 2019 to 1,500 by the end of 2021. IWSR also estimates e-commerce accounting for 7% of the total off-trade beverage alcohol volume in the US by 2024. The laws in the US vary from state to state and every state has its own set of liquor laws. This has posed certain restrictions on retailers and left customers with very limited choices. Despite these restrictions and choices, the US accounted for the growing consumption of alcohol by categories in 2021 as shown in the image below.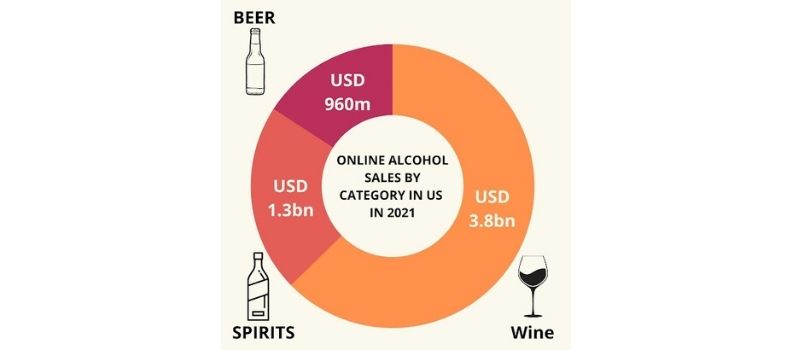 Online Alcohol Sales By Category in The US in 2021; Image Adapted from 2022 Alcohol Ecommerce Playbook Rabobank
With a large number of online e-commerce platforms and retailers coming up in the US, there has been a distinction between the two kinds of shoppers. One is the conventional shopper who is browsing through traditional e-commerce websites and seeking great prices and known brands and they are ready to wait for deliveries. On the other hand are the modern app-driven shoppers. They are using e-commerce platforms and apps that are preferred by the younger legal drinking age consumers who are interested in premium brands and are willing to pay higher prices for rapid delivery.
"Given the pandemic and overall changing consumer shopping behavior, it's certainly not surprising that alcohol e-commerce is growing very quickly. But what's interesting is to see the significant variants that have developed both across and within markets in how different consumer groups shop via e-commerce and what their priorities are."
- Guy Wolfe, Strategic Insights Manager, IWSR Drinks Market Analysis
The U.S. has also seen a growth in the online DTC (Direct-to-Consumer) sales of alcohol which has risen by 73% in 2020, making up for nearly a quarter of the U.S. DTC wine business. E-commerce platforms are a convenient method for consumers to purchase alcohol while at the same time, it is a cost-effective market for brands, alcohol producers, and retailers to make their brand visible on virtual shelves and sell more often. Here are some of the e-commerce platforms that have induced online alcohol sales in the U.S.
Drizly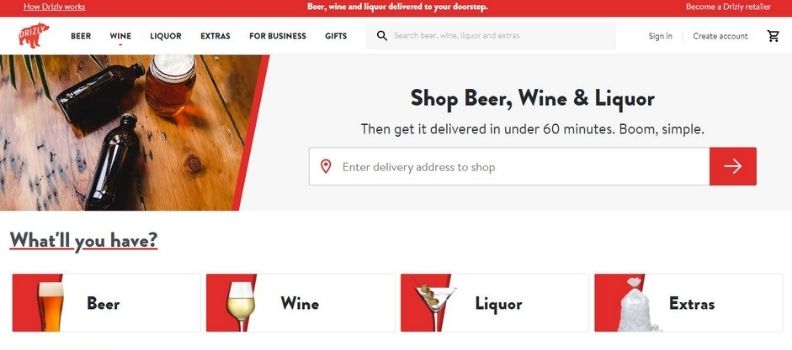 Image Source : Drizly
With the guarantee to deliver drinks within 60 minutes, Drizly has been a huge success in the U.S. alcohol e-commerce market. They have an enormous variety of alcohol including wines, spirits, beers, liqueurs, etc. to choose from. Their well-equipped app lets you order alcohol with just a few taps on your mobile. A very convenient option for retailers, it gives them access to millions of consumers and is free to sign-up for. It enables them to bring their products up on virtual shelves.
For small as well as big producers, Drizly is a great option to partner with to take their e-commerce business to another level. They offer marketing efforts to producers which helps to drive sales of their products.
Delivery Options
Same Day Delivery​​ - $4.99, Within 60 minutes of placing an order
Wine.com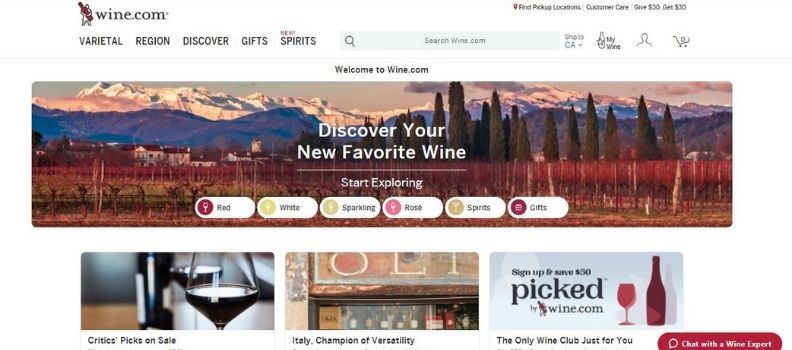 Image Source : Wine.com
An online marketplace that lets you know the professional ratings of the wines every year and offers a wide range of wines and sparkling wines based on varietal and regions. They have a subscription called the StewardShip Program where they provide unlimited free shipping on any orders throughout the year. The platform lets you sell your wines, engage in affiliate programs through referral codes, and also partner with the brand where they offer marketing opportunities to brands and regions through their website. Overall it is a great platform for small producers to get listed.
Delivery Options
Standard Delivery - $15
Stewardship Program - $59 yearly, Free Delivery
Total Wine and More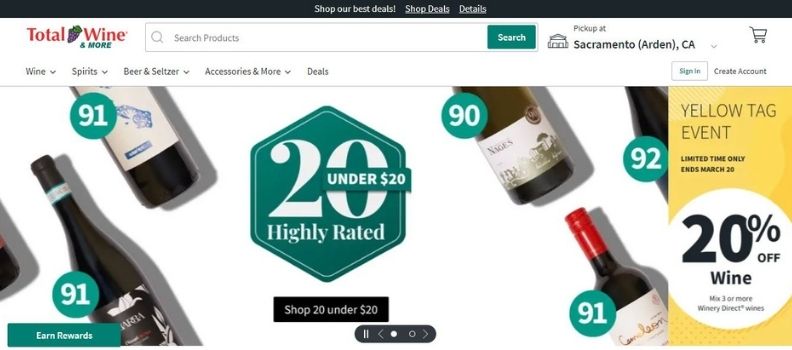 Image Source : Total Wine
One of the retail giants in the alcohol e-commerce business, Total Wines has been a champion in this market. They have a huge variety of wines, spirits, beers, seltzers, and a lot more. They are America's largest independent retailer of fine wine. With a variety of 8,000 wines, 3,000 spirits, and 2,500 beers, they have played a huge role in the alcohol scene in the US. They also offer huge discounts and offers on wholesale orders and collections. They offer a Supplier Inclusion program where they focus on creating opportunities for businesses owned by minorities, women, veterans, and members of the LGBTQ+ community. Apart from that, they have certain partnership programs which they run locally as well as on a regional level.
Delivery Options
Same Day Delivery - $7.99
Next Day Delivery or Selected Day Delivery - $5.99
BevMo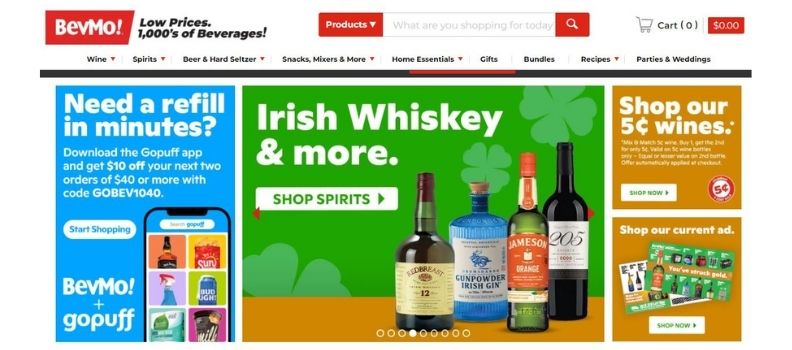 Image Source : Bevmo
Recently acquired by GoPuff, BevMo is America's retail chain that focuses on the sale of alcohol across the U.S. Offering alcohol at low prices, it has a huge variety ranging from hard kombuchas to cocktails syrups infused with alcohol. The retail chain has a big group of knowledgeable buyers who select the best alcohols that are sold across the stores and online. The website has a lot to offer from product knowledge, pairing recommendations, to party planning expertise and great alcohol advice. Apart from online sales they also hold tasting events in their stores on Fridays and Saturdays where they make you try their new finds. They even help you plan the alcohol menu for your events.
Delivery Options
Standard Delivery - Same day delivery or next-day delivery, $9.99
Standard Keg Delivery - $75, includes delivery and keg fee
Saucey
Delivering alcohol within 30 minutes, Saucey has been a favorite among the younger generation with a legal drinking age who want their alcohol deliveries ASAP. They have a great range of wines, spirits, beers, and even tobacco including cigars, and are located in mostly all the major cities in the US.
Saucey offers a partnership program to retailers which helps them to get listed on this platform, sell their products online, gain customers and insights, and grow their business. Their affiliate program offers you a competitive commission and exclusive promotions.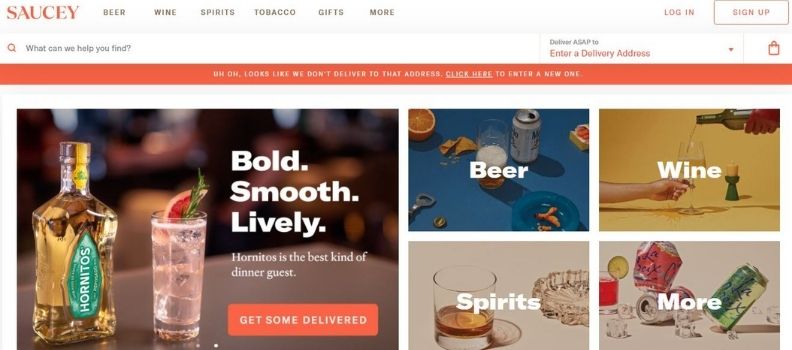 Image Source : Saucey
Delivery Options
Same Day Delivery - Delivery within 30 minutes, $4.99, Free on orders above $150
Amazon US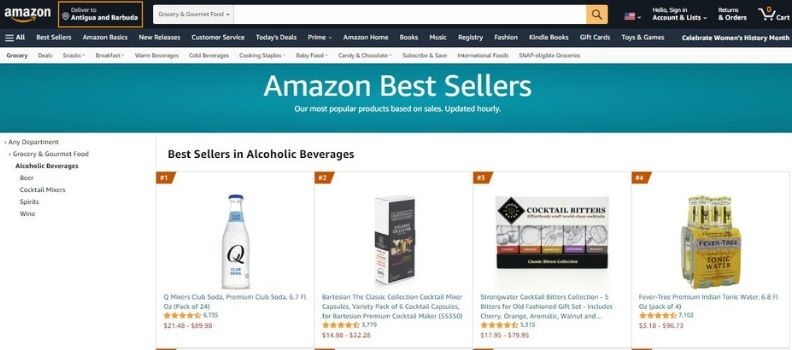 Image Source : Amazon
One of the most common e-commerce platforms in the U.S., Amazon has a variety of alcoholic beverages in all kinds of price ranges. The platform offers different ratings along with the great prices they are available at from different sellers. With an easy-to-use interface, Amazon offers safe and reliable delivery of alcohol and requires confirmation of age by the buyer at the time of delivery.
Delivery Options
Prime Delivery - One-day Delivery and Free Delivery
Standard Delivery - 2-3 days depending on the seller
Wine Insiders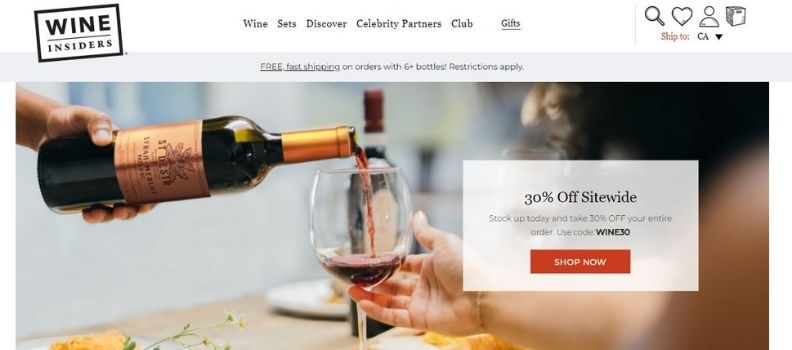 Image Source : Wine Insiders
Offering great wines at the doorstep within 2 days, Wine Insiders aims at making shopping for great wine easy, convenient, fun, and affordable. They aim at selling great and high-quality wine at low prices. They want to bring the best wineries to people with a guarantee of 100% satisfaction. Thus, they pay huge attention to customer retention. Not just to buy wine bottles, but you can also learn wine serving tips, gain wine knowledge through their guides and learn everything about wine on their website.
They have collaborated with celebrities like Martha Stewart, Geoffrey Zakarian, and Ludo Lefebvre and have put their collection on sale.
Delivery Options
Standard Delivery - 1-3 Business Days, $14.95 for 3-5 bottles, Free for more than 6 bottles
Minibar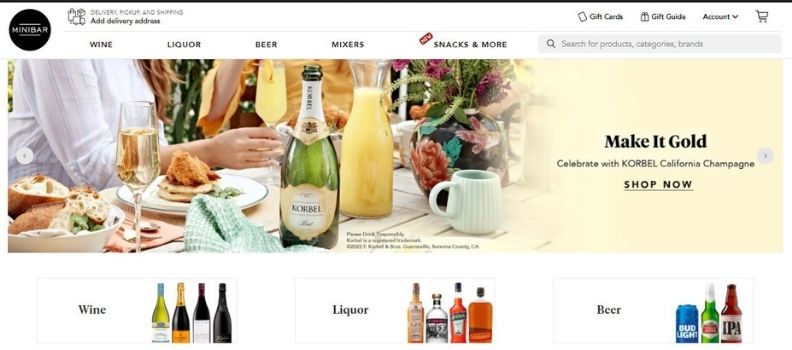 Image Source : Minibar
Minibar Delivery is a great startup founded by Lindsey Andrews who aimed at offering the easiest way to people to lift their spirits. They partner with local liquor stores in your area and deliver alcohol from the closest one to your location which allows them to deliver within 60-120 minutes. They have a vast variety of wines, beers, liquors, and even snacks and mixers to go along with your drinks. They also give you the option of gifting e-gift cards to your loved ones. Their partnership program lets you reach out to a greater consumer base through their large US reach and allows your brand to engage in campaigns through their integrated campaigns.
Delivery Options
Standard Delivery - 60-120 minutes, $4.99
ReserveBar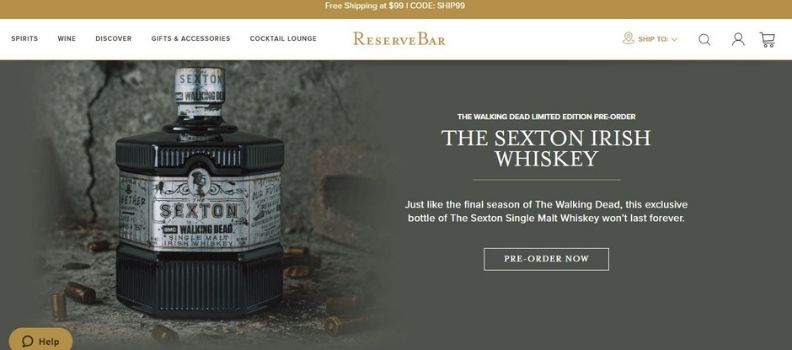 Image Source : Reserve Bar
Offering a range of premium wines and spirits, ReserveBar has become an established e-commerce leader in rare, luxury, and ultra-premium spirits for all occasions. They specialize in discovery, convenient access to the world's finest wines, spirits, and champagnes, customization, gifting, provisioning a stunning bar, and a lot more. 5% of the brands on the platform are owned by BIPOC and/or women entrepreneurs. Adhering to the laws, they only deliver after a verification process. Their range of bar accessories is an absolute treat for your bar.
Delivery Options
Ground Delivery - 13- Business Days, $9.99, Free on orders above $149
Uptown Spirits
One of the biggest online alcohol stores in the U.S., Uptown Spirits is a one-stop-shop for all your bar needs. They have a large selection of wines, liquors, beers, and all the popular spirits you are looking for. They even handle corporate gifting orders where they take care of your big orders and deliver them to the doorstep. Their blog also helps in clearing all your liquor-related queries. To top it all off, they have even started selling NFTs through their website but that is only limited to a few brands as of now.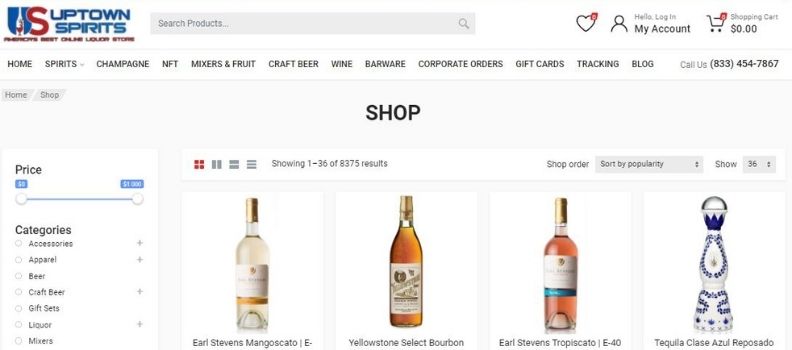 Image Source : Uptown Spirits
Delivery Options
Ground Delivery - $21, 1-3 business days, $14.95 on orders over $199, Free on orders above $399
Article by Shreya Kohli, Beverage Trade Network
Header Image Source - hongkongliving.com