Smart Warehousing Companies Changing The Future Of Alcohol Industry in The U.S.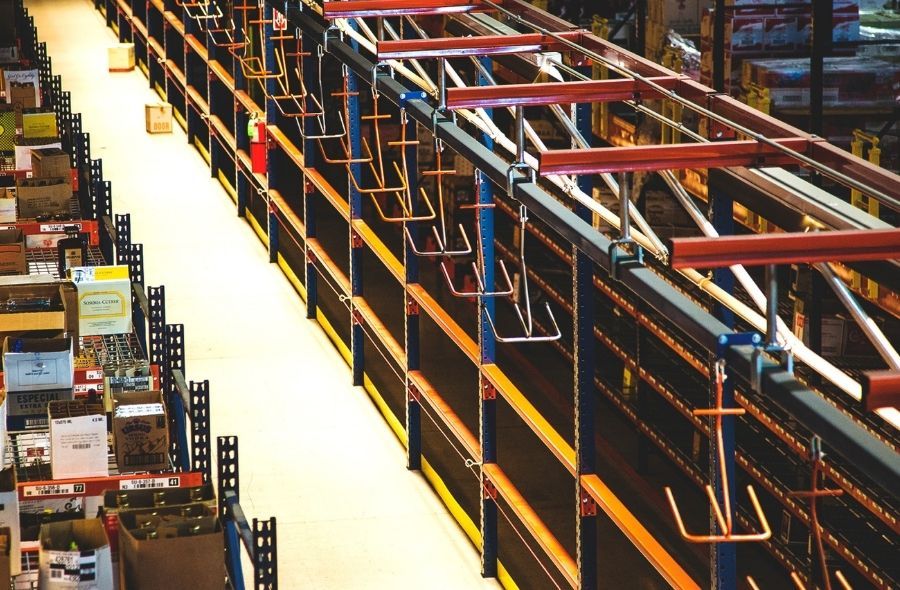 These companies are providing smart warehousing solutions to big alcohol companies and changing the face of the supply chain.
22/02/2022
Smart warehousing is simply defined as the culmination of the automatic components in the warehouse. It helps in contributing value by integrating technology and automation that enables cost savings and efficiency. The smart warehousing market has immensely grown over the years and is expected to reach US$ 25.4 billion by 2026 and North America has been estimated to have the largest market size (Source - Markets and Markets). With labor shortage, changing demands of the consumers, delivery fulfilments, and a lot more, automating warehouse operations becomes an important part of the alcohol industry. Major alcohol giants like Diageo, Heaven Hill Distillery, and Lion Beer Australia have already incorporated smart warehousing technologies in their facilities. This has not only increased their productivity but also helped them to manage their inventory well and eventually increase profits.
[[relatedPurchasesItems-35]]
Smart warehousing can simply be integrated within the facility by installing certain components in the warehouse and equipping the area with different technologies. Artificial Intelligence, Robotics, Automated Guided Vehicles (AGV), Warehouse Management Systems, etc. are some of these features. You can read more about them here. The technological advancements in the warehouses of alcohol companies have enabled them to increase their efficiency and productivity. Not just this, it has helped in reducing costs, increasing profits, providing real-time data, and minimizing the errors that used to take place when everything was managed manually. More and more alcohol distribution companies are switching to smart warehouses and there are several companies are providing solutions to develop the warehouses.
Westfalia USA
Delivering unparalleled warehousing solutions, Westfalia has been in the warehouse business for 50 years now. Committed to innovating and implementing logistic solutions, they utilize their automated storage and retrieval system and conventional material handling equipment that has immensely helped the alcohol beverage industry. They are one of the biggest players in the smart warehousing industry and have closely worked with wine and spirits giants like Martignetti Companies and Breakthru Beverage.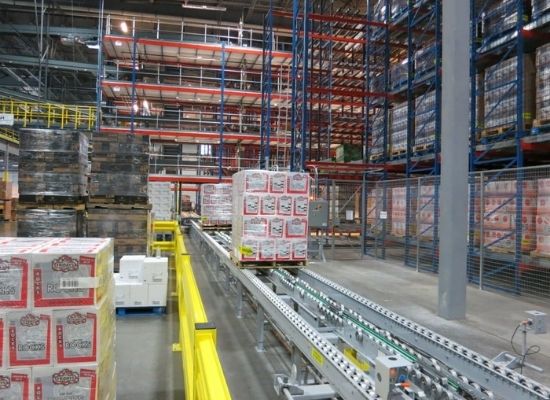 Automated Storage System by Westfalia USA; Image Source - Westfalia USA
Services Offered
AS/RS System - Automated storage/ Retrieval system for warehouse efficiency
Warehouse Execution System - Savanna.NET is an integrated warehouse management and control system that conforms with the business processes.
Automated Picking - Convenient order fulfillment
Automated Conveyor Systems - A customized automated system for material handling
Pallet Flow Racking System - Superior system for the durability of the products. Gravity flow system for the storage of your pallets based on your material and layout requirements.
Self-Storage Systems - Off-site storage facilities for distributors and manufacturers of alcohol
Automated parking Systems - To maximize available space and eliminate the need for space-stealing features with the help of an automated parking garage
Martignetii Companies, an alcohol wholesale company uses automation systems by Westfalia to consolidate their operations. They developed their two former warehouses into a newly constructed 50-foot high warehouse which has been equipped with 3 AS/RS systems that automatically store and retrieve thousands of pallets every day.
DMW&H
Providing unique distribution solutions, DMW&H provides material handling consulting services for third-party logistic companies, retail warehouses, e-commerce companies, and a lot more. With their design, construction, implementation, and integration services, they help optimize the current operations in the warehouses and prepare for future scalability. Their Shiraz software, a warehouse control system manages conveyors in the warehouse that interface with the AR/RS systems in the facility. DMW&H is working with wine and spirits industry giants like Badger Liquor and Empire Merchants.
Services Offered
Analysis - Reducing bottom-line operating cost with process improvements
Software - Shiraz, a Warehouse Control System takes control of the warehouse
Integration - Order fulfillment engine integrates the order fulfillment technologies, enterprise resource planning system, and warehouse management systems.
Implementation - Execution of the project from conception through installation to final commissioning
A Night in the Badger Liquor Warehouse
Badge Liquor's Warehouse equipped with barcode scanners and automated conveyor belts
Bastian Solutions
A trusted supply chain integration partner, Bastian Solutions has been committed to designing and delivering world-class distribution and production solutions. They seek out leading technologies in material handling equipment as well as information systems. They provide unique solutions by combining powers of scalable material handling systems, innovative software, and custom automation. Bastian Solutions has provided technological solutions to wine and spirits distribution companies like Southern Glazers.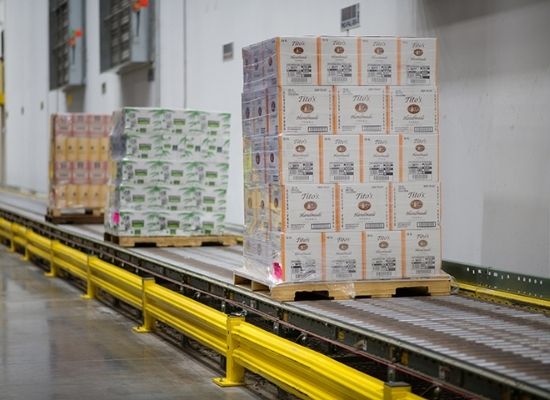 Automated Conveyor Belt at Southern Glazers by Bastian Solutions; Image Source - Bastian Solutions
Services Offered
Order Fulfillment - Using technology to reduce labor cost with improvements in service levels, higher throughput, and scalability.
Sortation Systems - Automated sortation to improve inventory reliability and shipping accuracy
Goods-to-Person - Modern order fulfillment method with automated storage with an accurate and ergonomic picking process. Products are stored within the system and automatically transported directly to the operator.
Warehouse Management System (WMS) - Exacta, a WMS by Bastian, provides a suite of software applications that enables the brand to customize and view its warehouse system in ways that best benefit the company's business requirements.
Automated Guided Vehicles (AGVs) and Autonomous Mobile Robots (AMRs) - Industrial automated equipment to excel at safety and consistently transport products and materials in manufacturing and distribution operations.
Automated Storage and Retrieval Systems (ASRS) - Providing accurate and real-time data of inventory to eliminate the physical inventory inspection and providing direct access to items at all times.
Automated Case Flow - Automated beverage case flow system allows to reduce labor costs by handling over 500 unique SKUs and automatically building small and large format beverage orders.
Conveyor System and Equipment - Automated conveyor system to provide increased throughput, efficient product handling, and maximum support for operational processes.
Custom Automation and Machine Design - Custom automation overcomes the challenge of current manufacturing, warehousing or distribution operations.
Industrial Robotics Integration -Improving the warehouse operation by combining the industrial robotic system with the operations to perform accurate repetitive material handling actions.
Industrial Controls - Controlling how the material handling equipment works standalone and together to run efficient operations by robust control integration.
Radio Frequency Identification Devices (RFID) - To efficiently identify and manage all the products and assets
Vertical Lift Modules & Industrial Carousels - Automated storage and retrieval systems for storing small to medium-sized products and improving order fulfillment and buffering.
Automated Palletizing - Palletizers and automated palletizing equipment to increase throughput.
Seegrid
Fortifying global supply chains and creating profitable economies, Seegrid provides autonomous mobile robots (AMR) enterprise software for material handling automation. They offer navigation technology in their systems that are robust and reliable. The main focus of the AMRs is to increase throughput, improve safety, and reduce labor costs. They are a proven solution for manufacturing, warehousing, and logistics material handling.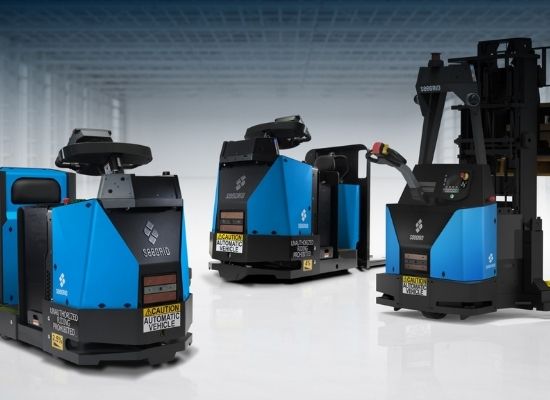 Autonomous Mobile Robots for Warehouses by Seegrid; Image Source - Seegrid
Services Offered
Autonomous Mobile Robots - An automated tow, lift, and pallet truck tractor that reliably moves multiple loads. This increases throughput productivity and improves safety.
Intelligent Automation - Seegrid Plaion, a software that fuses the unique computer vision system with real-time sensor data. Seegrid's proprietary algorithms create a fully autonomous robotic fleet with an unmatched ability.
Körber
Formerly known as HighJump, Körber has constantly focused on conquering supply chain complexities. It offers a deep toolset and strategy that welcomes innovation to simplify the operations in a facility. They integrate proven solutions for the warehouse, transportation, and logistics ecosystems with emerging technologies from around the company and the world. Major Brands, Missouri's highest-volume distributor of premium wines, spirits, and beers, integrated the Körber WMS to increase efficiency. The K.Motion Warehouse Advantage gave Major Brands total control and understanding of its inventory. The company was able to track its labor activities and determine what actions were in the process and which have already been completed.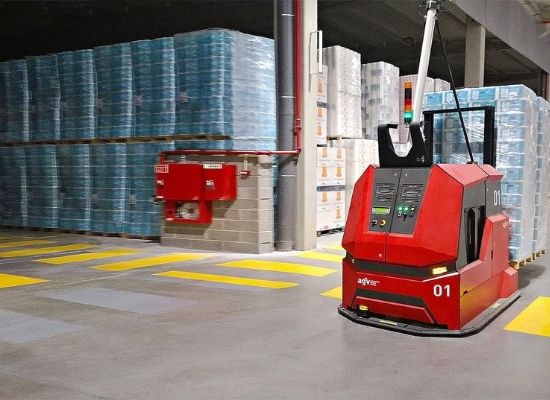 Automated Guided Vehicle (AGV) by Körber; Image Source - Körber
Services Offered
Supply Chain Software - Körber's all-encompassing suite of supply chain software is designed to help the manufacturing and distribution organization by maximizing space, improving efficiencies, and increasing productivity.
Voice, vision, and Mobility - Helps in reengineering and improving the processes in the facility while optimizing business efficiency.
Software Consulting and Implementation - Softwares to enhance the efficacy and efficiency of the systems and the staff responsible for them. This helps in supporting the company's supply chain from end to end.
SAP Consulting and Implementation- Provides integrated and holistic management systems for small to large-scale manufacturing and distribution organizations.
Robotics - Robotic solutions to respond to today's supply chain demands, optimizing the floor operations, transportation, processing, fulfillment, and staff safety.
System Integration and Automation - Improving efficiency, maximizing space, and increasing productivity across the supply chains.
Material Handling Equipment - Optimizes the supply chain automation to increase productivity across the warehouse and distribution centers.
Article by Shreya Kohli, Beverage Trade Network
Header Image Source - Breakthru Beverage Group