Taste the future with Diageo's Taste of the future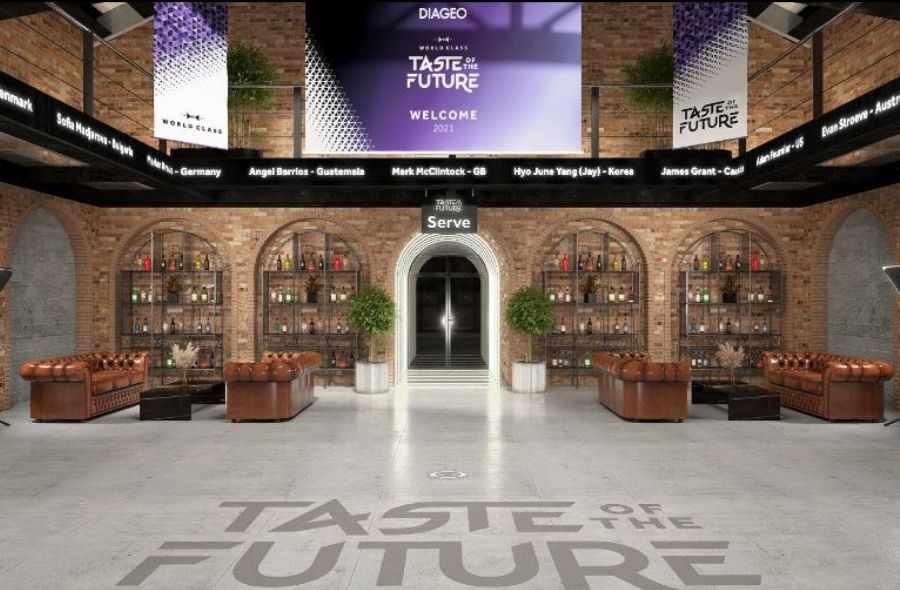 There are many iconic brands in the Wine and Spirits Industry. They help build and define the future of the trade, pave new ways, and create avenues to take the mission and vision forward. One such brand is Diageo.
27/04/2022
Diageo was created in 1997 but its business is built on the principles and foundations laid years before by giants of the industry – Arthur Guinness, John Walker, Elizabeth Cumming and many more. Diageo is a global leader in beverage alcohol with an outstanding collection of brands across spirits and beer. They produce an outstanding collection of over 200 brands – old and new, large and small, global and local – that are enjoyed in more than 180 countries around the world.
[[relatedPurchasesItems-35]]
Every year Diageo works with the world's best bartenders and innovators to discover the future of world-class drinks. There is extraordinary innovation and creativity within the cocktail culture and they want to celebrate that and give the world a taste of what's next. In this quest to discover and create world-class experiences, Diageo has created a virtual experience for wine and spirits enthusiasts around the world. This virtual space is aptly named "Taste of the future".
"All of the partners and activations in the Taste of the Future space are part of Diageo's Test and Learn Pilot program - some are very experimental, but we are excited to share with you what we are working on!", says Team Diageo on the landing page of this virtual experience.
This virtual space builds a platform to experience beverages, meet professionals, interact with brands and collaborate across the board. You firstly walk into a 360-degree experience with a lobby that resembles an entrance to an Expo. Three big archways grab the viewer's attention: Inspire, Serve, and Personalize.
Inspire Lobby at Diageo World Class' Taste of the Future. Source: Diageo
Walking through the Inspire arch leads to a cozy living-room-like setup. Tribes, What's your Whiskey, Talisker Tasting, AR Bottles, and Pinterest are the interactive experiences available here. Diageo has partnered with London-based organization Threedium to create interactive and immersive 3D bottles out of wines and spirits loved by the world. The AR technology allows viewers to place the bottles in their own homes, virtually. The Talisker tasting table allows viewers to experience a virtual tasting of three Talisker brands (Talisker Storm, Talisker Skye and Talisker 10
Year Old. This experience is created using a Smart Speaker. Diageo and Say it Now designed a voice-activated experience that allows consumers to immerse themselves in a soundscape inspired by the distillery on the Isle of Skye, discover new tasting notes and brand provenance, all in the comfort of their own home
This arena also features a What's your Whisky quiz that allows enthusiasts to explore newer flavor profiles. Available via mobile or desktop device, the What's Your whisky? Asks users 11 different questions to understand what favors they like. The programme then uses Al technology and machine learning to assess the user's tastes. The data is then used to create the consumer's personal flavor allowing the technology to then recommend a single malt with a flavor profile that suits the consumer's results. Diageo is also running a pilot and building tribes with Codec AI that enables them to identify growing online communities that share interests with their brands. This will uncover potential consumers and find better ways to communicate the innovation to those customers.

Inspire Arena at the Diageo World Class' Taste of the Future. Source: Diageo
The Serve arch leads the viewers to an upscale modern bar setup. Virtual Mixology and Ripples Gen 2 are the two major experiences in this space. Virtual Mixology is a unique cocktail class delivered using WebAR. Launched on your mobile. This WebAR cocktail- making experience allows you to preview four special Johnnie Walker cocktails, then guides you step by step - with augmented 3D visuals - to bring the flavor pairings to life and create a cocktail for you . The experience uses surface tracked WeAR technology to place animated virtual ingredients into your real glass and demonstrate every step in 3D as you mix your drink. Each tutorial culminates with striking AR visual effects, bringing each completed cocktail to life with its own unique personality.
The next innovation in this arena is Ripples 2.0. It allows any business to print high-resolution images atop cocktails, beer or coffee-based drinks, The technology turns any beverage into an exciting experience that surprises and delights customers while delivering direct, fun, impactful messages. Ripples helps win the attention of screen-focused audiences, inspire social posts, and leverage real estate on top of beverages that include many brands, hotels. bars, restaurants, and cafes have never been considered.

Personalize arena at the Diageo World Class' Taste of the Future. Source: Diageo
The Personalize arena at the World Class Taste of the future features Ripples Gen 2, World Class, Message in a Bottle, What's Your Whiskey, and AR bottles. The special Message in a Bottle experience is truly exciting. Message in a Bottle offers consumers an innovative and unique way of personalizing their spirit gifts through adding a recorded audio message or a text note to their purchase. This innovative gifting option is currently available for any Johnnie Walker Black Label, Singleton 12. Talisker 10, Talisker Skye and Talisker Storm purchased on www.malts.com . Diageo developed this gifting mechanic to create a scalable and differentiated gifting experience that turns their spirits into more meaningful gifts and therefore helps us win share in the gifting space.
Simon Earley, Head of Diageo World Class, said: "Each year we work with the world's best bartenders and innovators to discover the future of world-class drinks. The past year has seen extraordinary innovation and creativity within cocktail culture; we want to celebrate that and give everyone a taste of what's next. A Taste of the Future is a fully interactive virtual space, allowing everyone to explore for themselves some of the near-future partnerships appearing at home or in a bar near them soon."
One of Diageo's biggest collaborators in this endeavor is Pinterest. Anna Sudbury, senior partner manager at Pinterest, commented: "We're thrilled to be teaming up with Diageo on this first-of-its-kind partnership. Pinterest is where people come for inspiration and to discover new ideas, and unsurprisingly people are super excited to play host this summer, reunite with friends in a safe way, and enjoy delicious food and drinks! We've seen an increase in the past few months of people searching for cocktail party ideas, so we know Pinners will love the ability to find personalized cocktail recommendations and recipes based on their individual tastes"
Experience the future at Diageo's Taste of the future here.
Article by Prithvi Nagpal Editor & Sommelier, Beverage Trade Network