Wine List & QR Codes: Wine Management with Digital Marketing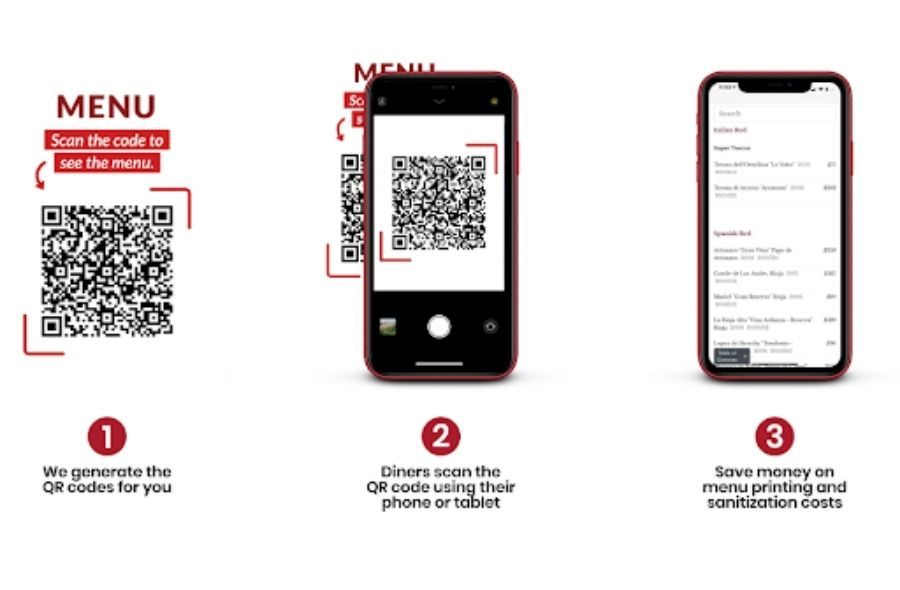 The Cloud, QR Codes, and Wine Lists: Exploring Digital Options for On-trade Wine Marketing and Management 2022
10/03/2022
Companies new and old are now offering sophisticated cloud-based wine lists and inventory management solutions for sommeliers and wine directors. Here's a quick look at some of the major players on the field. Is it time to switch to QR code programs that go beyond a simple PDF wine menu?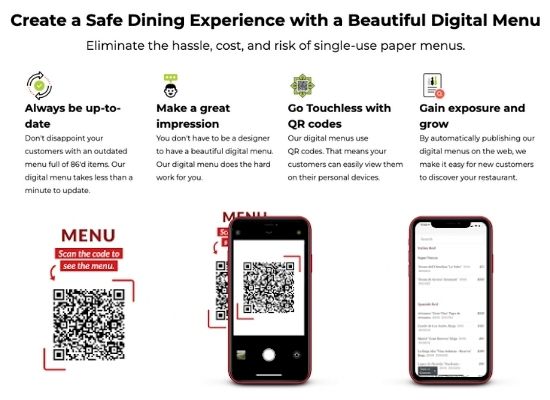 Source: Binwise
The COVID-19 pandemic made cloud-based wine lists practical for a wide variety of restaurants like never before. Guests can use their own smartphone to peruse (and sometimes place orders) in a contactless way, often by scanning QR Codes. This was a step beyond the digital wine lists of a decade ago that only used Ipads or other tablets. The trend towards using cloud-based wine menus will likely continue and be in demand by consumers.
Cloud- or web-based wine menus can be as simple as a PDF on a website with the link provided by a QR code, but much more sophisticated and time-saving options exist. A variety of companies now offer such cloud-based apps and services, often with the option of additional services, including, in one case, actual wine selection and purchasing. How do they line up? What services and features should sommeliers expect? And who are the major players in the cloud-based wine list field?
Corkguru
Corkguru offers guest relationship management and dynamic inventory management in combination with a cloud-based digital wine list. Guest loyalty is a major theme, including generating push notifications to cell phones and building newsletters. Although the guest-facing list is focused on use with iPads, it works with smartphones as well. The wine list allows search by varietal, vineyard/winery, and price. Each wine entry includes a label image, tasting notes, and suggested food pairings. As inventory changes, updates are published immediately to the wine list.
Corkguru features four levels of pricing, including a free version for up to 15 wines. The $499/month "Master" level includes the Wine Menu on the iPhone Guest App, a Guest Loyalty Manager with unlimited push campaigns, and no limits on the number of listed wines. You can easily publish a wine list on the web and have access to dynamic inventory management.
Uncorkd
Similar to Corkguru, Uncorkd places a lot of weight on tablet-based wine lists, though it also offers a QR code feature for use with the customer's own smartphone. Their QR code menu is accessible for guests using any smartphone after scanning a QR code. All customers must do is point their mobile device and scan the QR code (which virtually all mobile devices can do) and they're immediately taken to a touchless menu. Uncorkd offers inventory management using any mobile device (with no need to download an app), detailed reports, and purchase orders. Their software goes beyond wine and is adaptable to all sizes of wine programs. Uncorkd helps all different types of operators manage not only their wine list, but also whiskey and scotch lists, beer menus, and cocktail menus. They emphasize customer service perhaps more than other companies. They will build a custom wine list for you, provide assistance with onboarding, and give you a dedicated account manager. "Capture the personality of your restaurant or bar with your menu design by blending the look you want with intuitive menu use," says Uncorkd.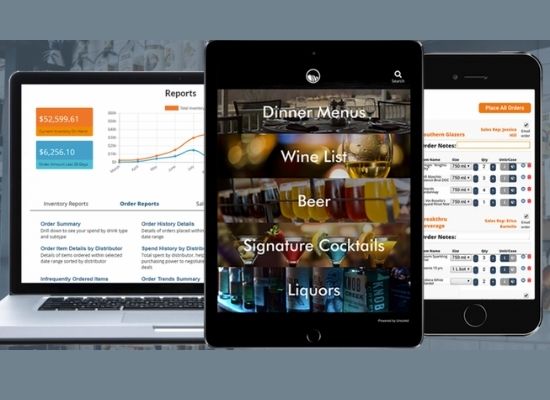 Source: Uncorkd
Uncorkd claims to be able to raise sales by up to 20% by offering wine directors the ability to rotate selections without reprints, promote featured wineries or events such as wine dinners, provide guest education, and suggest specific wine pairings.
Pricing is customized to each restaurant.
Binwise
With a long industry track record, Binwise features apps for everything from taking inventory to purchasing, invoicing, and creating detailed reports. More than Corkguru and Uncorkd, BinWise appears to have rapidly adapted to smartphones and QR codes rather than still emphasizing tablet-based wine lists.
There are actually three products that will be useful to sommeliers and wine directors: BinWise Pro, Bin Scan, and the digital menu with QR code. The first is a sophisticated inventory management program that includes capabilities such as scanning SKUs, creating purchase orders sent directly to suppliers, and POS integration. "You always know how much you have on hand," says Binwise. "Set your pars so you know just when to reorder necessary stock." The Bin Scan app can be used either with smartphones or a hand-held scanner, which is faster, and the app is free for Binwise customers. The company also promises beautiful menus constantly updated with correct inventory, with no apps or software complications. Their Sprout QR code menu is accessible to diners and drinkers on their smartphones after scanning the code. "All customers have to do is point their mobile device and scan the QR code (which virtually all mobile devices can do) and they're immediately taken to a touchless menu," states BinWise.
BinWise provides customized pricing for each restaurant.
[[relatedPurchasesItems-35]]
Lucid
Founded in 2019 by Geno Tomko and Brett Freelan, Lucid promises to replace your wine director, or at least take over many wine-related tasks for owners and managers. Premised on the US market, Lucid actually sources wines and provides staff training. It offers greater purchasing power based on its 50+ restaurant customers. Lucid says its track record shows a 10% return on investment. "While your managers are working the floor or creating the weekly schedule, we are negotiating pricing with vendors and driving down cost on your behalf," says Lucid. "When you are having an all-staff meeting about your POS system, we're behind the scenes finding the next great Sancerre producer."
Lucid's price starts at $299/month for restaurants with "small wine lists," $499 for large lists, and custom pricing for wine lists with 100+ SKUs or more.
Tomko worked at restaurants such as Flour + Water, Momofuku, and Frasca Food & Wine. He says his "goal is to democratize the world of wine" and bring value to restaurant owners. Freelan worked for 12 years at salesforce.com, particularly in training. She conducted workshops and online courses, served on the inaugural committee that developed certification exams, and built on-demand learning strategies. She applies her expertise in operations and enterprise education to Lucid.
Accubar
A longstanding company, Accubar offers a digital wine list solution called iWineLists, which either takes data from AccuBar, which is a general bar management program, or functions as a standalone system. Accubar itself is about inventory management, reports, and purchasing, including for multiple locations. Their app allows scanning with smartphones and tablets, but this is limited to Android devices. The app can also connect to a Bluetooth scanner for greeter speed, depending on the size of a restaurant's inventory. Accubar promises to give customers an elegant, usable, interactive wine list that will increase sales. "One button," says Accubar, "publishes your current AccuBar wine info on tablets, your website, printed lists, and even your customers' smartphones."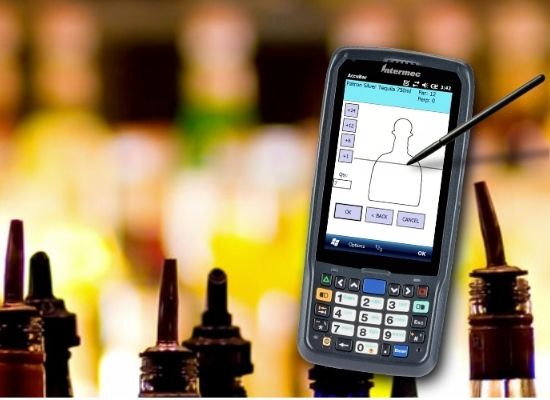 Image Source: Accubar
The specific wine-related product, iWineLists, runs on any tablet or smartphone, can be uploaded to a restaurant website, and will also produce a printed list with no extra data input. It allows users to search for items by multiple criteria, including price, pairing notes, ratings, and flavor characteristics, along with typical wine details. iWineLists allows customization of look and feel, displaying featured or sale items, and guest use options. One interesting feature is that iWineLists allows guests to email wine information to themselves or their friends, in an email that features the restaurant details.
Accubar provides customized pricing for each restaurant or multiple-location application.
Header Image Source: Binwise